LUBBOCK, Texas -
We made it to 104° yesterday, just 3 degrees below the record. Today will be just as hot or a few degrees hotter with the high expected at 105, record at 107. Please stay cool and hydrate as much as possible. If you have children, always check the back seats before leaving the vehicle. A Heat Advisory is place for our area from 1-8PM during the extreme heating part of the day. Sunny with a slim chance for an isolated shower or storm to develop during the later afternoon and evening hours.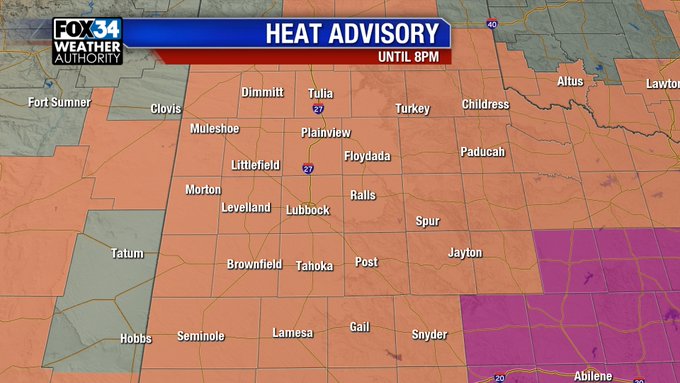 TONIGHT: If any showers or storms develop they will quickly diminish after the sunset. Some clouds overnight with another mild morning with mid to upper 70s expected.
FRIDAY: The record is 103 and forecasting a high of 104 to break the record. Again a slim chance for rain for parts of our area.
EXTENDED: Upper level high pushes further west allowing upper level disturbances to dig to our east. A cold front will help this extreme heat by Sunday with a little better chance for rain. High temperatures next week look to cool near average for this time of year with the possibility for more chances for isolated areas to get rain.

Have a great Thursday! Matt with the next updated forecast tonight on the News at Nine.
-Bobby