LUBBOCK, Texas -
Here are some of the top rainfall totals from the Tech Mesonet from the weekend.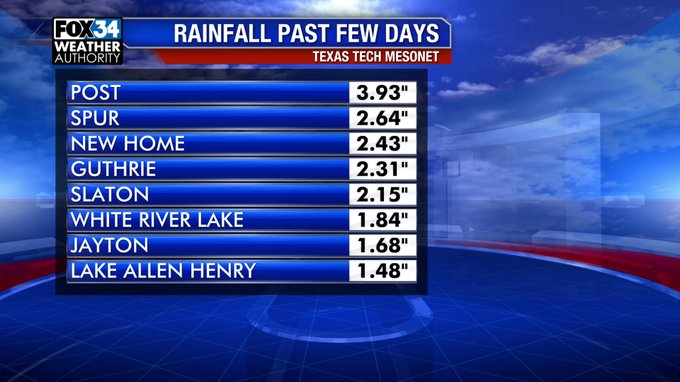 TODAY: We continue the chances for showers and storms with some possible severe storms. These should stay on the lower end of severe levels with around 1" hail and high wind gusts the main risks. Current radar and this mornings Storm Prediction Centers outlook below, highlighting the southeastern counties with the greater chance for these severe storms. This does include Lubbock county.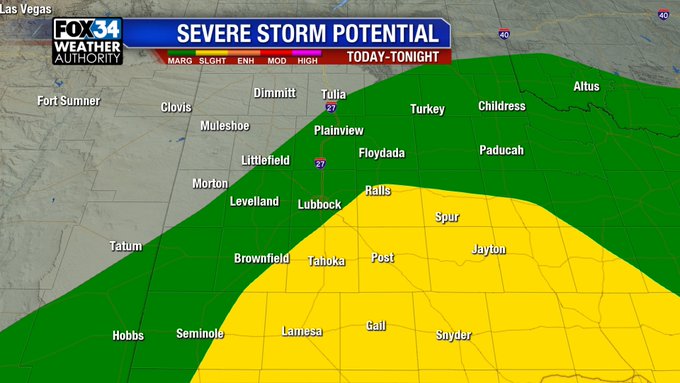 Temperatures will be much cooler with highs only in the 60s and lower 70s for our area. Northerly wind will be breezy at times 10-20mph.
TONIGHT: Showers and storms push south, still lots of clouds in our area. A bit chilly in the morning with lows in the upper 40s and 50s.
TUESDAY: Upper level low pushes east taking the chance for rain with it. There might be some showers across the Rolling Plains, but mainly just expecting clouds to stick around. High near 73, northerly wind continues 10-15mph.
EXTENDED: Temperatures start to warm into the upper 70s and low 80s by Wednesday and continues into the weekend. Cloud cover will stick around for the rest of the week, an isolated shower cant be ruled out. The big question is what does this low system do at the end of the week. Models disagree for now with one bring rain back for this weekend. If it moves east we area expecting sunshine.

Have a great Monday! Matt with the updates on possible severe storms and the next check of the forecast tonight on the News at Nine.
-Bobby