LUBBOCK, Texas -
High near 90, another active day for parts of our area with severe storms possible. Across our region we have a weak front moving in from the north, dryline in our area, and a upper level system that will push into the Big Bend area later today. All of this helping to lift the moisture along the dryline. Likely to have storms developing into the early afternoon with models keeping the better chances to our south and east. If the dryline stays a little further north and west we will get storms closer to Lubbock. Large hail, damaging wind gusts, and heavy rain expected with flooding concerns. Here is this mornings Storm Prediction Centers outlook and current radar below: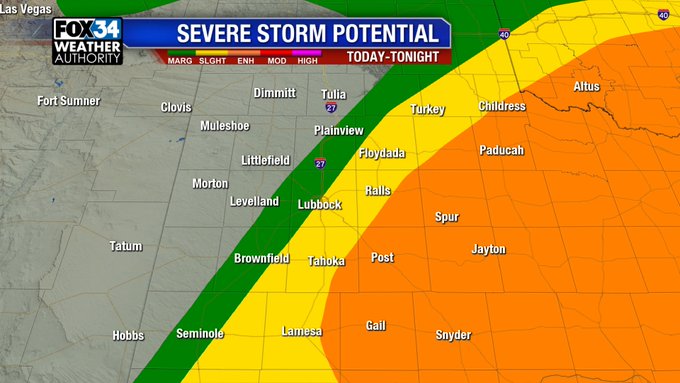 TONIGHT: Storms will push south of our area becoming a complex of storms as it pushes across the rest of Texas. Cloud cover will diminish as the storms push further south, low near 57.
WEEKEND: Models are hinting a few light showers possible with the weak cold front moving through our area Saturday. Also, might have some rain moving in from our north late Sunday. Again some models show this while others keep us dry. Temperatures drop to near average through the weekend with more clouds Sunday.
NEXT WEEK: Low chances for showers and storms and look better to our western counties with activity moving in later in the day from New Mexico. Temperatures return to the upper 80s and low 90, with mild nights.

Have a great weekend! Matt with the next updated forecast tonight on the News at Nine and will keep you updated on the afternoon activity.
-Bobby