LUBBOCK, Texas -
Cloudy and cool morning with a little moisture in the air. A lot happening today in our area as an upper level system moves across the Panhandle.
This will rush in dry air with westerly wind increasing 20-30mph and some blowing dust possible. A Red Flag Warning and wind advisory is in place for the western half of our area until 9PM. Avoid anything that may cause a spark as it could lead to a wildfire.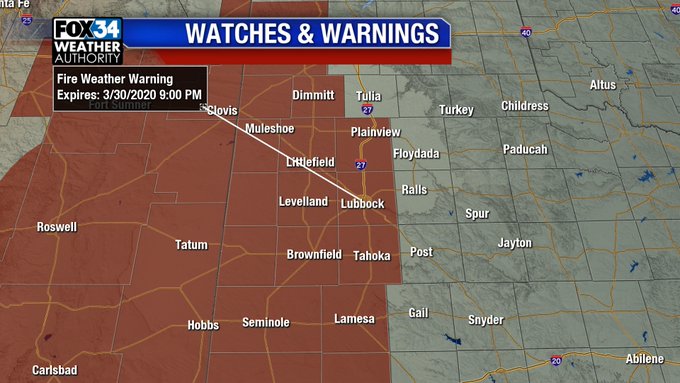 The cloud cover pushes east with a dryline, this may lead to showers and a few isolated storms. Better chance for any rain will be east of I-27 corridor and depends on where the dryline sets up. More sunshine for our western and central counties, high near 75. Current radar below:

TONIGHT: A weak front move in and will drop our low nearing 42. Mostly clear sky, wind speeds drop through the evening hours changing to the northwest 10-15mph.
TUESDAY: High near 72 and mostly sunny.
EXTENDED: We stay dry through the rest of the week with clouds increasing Wednesday. Highs climb to the 80s Thursday, then drop to the 60s to end this week. Wind speeds will increase, not as strong as today for Wednesday and Thursday. Something to watch is the chance for some rain Sunday, a little ways out for certain chances at the moment.

Have a great Monday! Matt with the next updated forecast tonight on the News at Nine.
-Bobby