LUBBOCK, Texas -
Rain overnight has cleared east and with the clouds. Here are rain totals for parts of our area since early Sunday.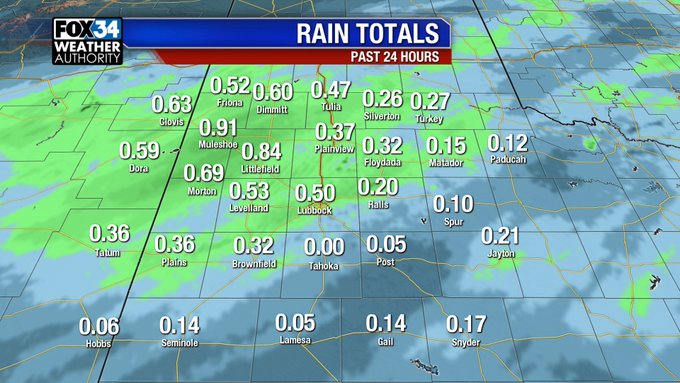 TODAY: Sunny and mild with the high near 71, the wind will be a little breezy for the first half of the day from the west-northwest.
TONIGHT: Low near 41 with a mostly clear sky, but there is a chance for some areas of fog to develop by the morning.
TUESDAY: Temperatures continue to climb to the mid and upper 70s. Although most of us stay dry a few models show an isolated shower or storm popping up in the later afternoon and evening hours.
REST OF THE WEEK: Better chances for showers with a few possible storms starting late Thursday through early Saturday morning. This will be from a slow moving upper level low pushing in from the west. Rain will likely be light late Thursday, then increasing in coverage and intensity Friday through early Saturday. Temperatures will be nearing 80 degrees Wednesday, but temperatures drop to the 50s and 60s Friday.
THIS WEEKEND: Precipitation clears for Saturday then another shot of rain Sunday into next week.

Have a great Monday! Robert in with the next updated forecast tonight on the News at Nine.
-Bobby