LUBBOCK, Texas -
You might have noticed a new weather alert on your phone this morning for our area. This Winter Storm Watch is not for today, but for the big changes on the way effective from noon Tuesday to 6PM Wednesday.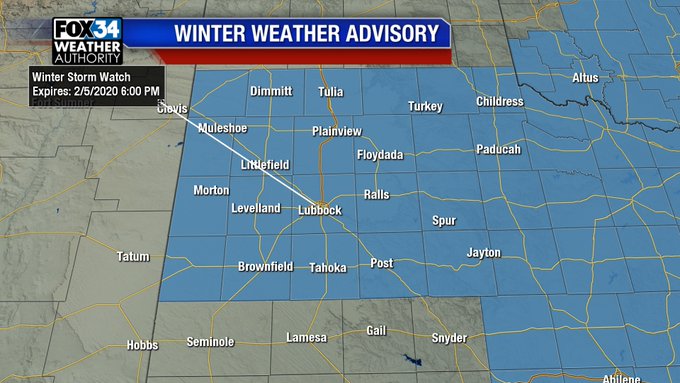 TODAY: High near 72, partly cloudy and breezy from the southwest 15-25mph. There might be an isolated shower across our southern counties ahead our next system this evening.
TONIGHT: Temperatures will be mild in the upper 30s and 40s, mostly cloudy with the wind changing to the northeast in the morning.
TUESDAY & WEDNESDAY: Cold front quickly rushing in the colder air with temperatures dropping to the 30s through the rest of Tuesday. Breezy northeast wind Tuesday into early Wednesday will make wind chills in the teens and single digit. Highs barely above the freezing mark Wednesday too.
There will be a shot for snow in our area later Tuesday into Wednesday. Models are agreeing a little better this morning keeping higher amounts to our southern counties and the I-20 corridor. Trace amounts to maybe an inch of snow possible for our northern counties, 2" to 4" with possible isolated areas with higher amounts from Lubbock and points south. Still some model discrepancy as the GFS model keeps all of our area clear and all snow to our south.

EXTENDED: This all clear our area with sunshine to end the week. Temperatures do climb but it stays cool with another weaker front possible this weekend.

Have a great #SuperMonday. Matt with the latest look at potential snow totals tonight on the News at Nine.
-Bobby