LUBBOCK, Texas -
TODAY: Wind speeds will quickly pick up from the west and stay very strong this afternoon. Reduced visibility possible from blowing dust as wind speeds increase 25-40mph, gust to 40-50mph. High wind warning and wind advisories in place until 6P. A cold front will drop highs during the afternoon, so our high will be around lunch time of 61.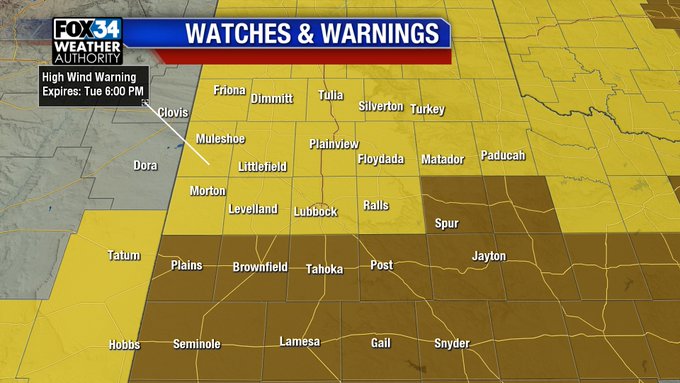 TONIGHT: Wind still breezy this evening 15-25mph before dropping over night to 5-15mph. Mostly clear sky with cold temperatures, low near 28.
RAIN CHANCES: A system will push out of the Pacific across our region. This will bring a chance for rain late Wednesday afternoon/evening. This precipitation will likely spread across our whole area through early Thanksgiving. Temperatures will be critical with above freezing and just rain expected to our eastern counties. Near freezing temperatures with rain and/or freezing rain/mixed precipitation possible on the Caprock, including Lubbock. This could lead to some slick roads for Thanksgiving travelers.



Friday will be much warmer and some showers will be possible. Strong wind returns Friday ahead our next front dropping highs to the 50s this weekend with a mostly sunny sky.

Have a great Tuesday! Matt with the next updated forecast tonight on the News at Nine.
-Bobby