LUBBOCK, Texas -
TODAY: It will be cooler than the last couple of days with 60s expected than the 70s. High near 63, with a mostly sunny sky and a light wind changing to the southeast.
TONIGHT: Moisture returns with more clouds and this will help to keep temperatures in the 40s and 50s area wide.
HERE COMES THE RAIN: A few things going on Wednesday and Thursday to bring us heavy rain in our area. First there is a weak upper level low in the Pacific Ocean, this will move inland and help to increase Gulf moisture in our area. This system will also bring Pacific moisture with lift provided by a strong cold front moving through Thursday. Better chance for the heavy wide spread rain will be late Wednesday early Thursday, some locations could get 1-2 inches. Most of the area looks to range from 0.50" to 1.50" before the rain ends later Thursday. Temperatures will drop after the passage of the front with a breeze northerly wind 15-25mph. Our highs will likely be in the early morning hours with temperatures struggling to make it to 40.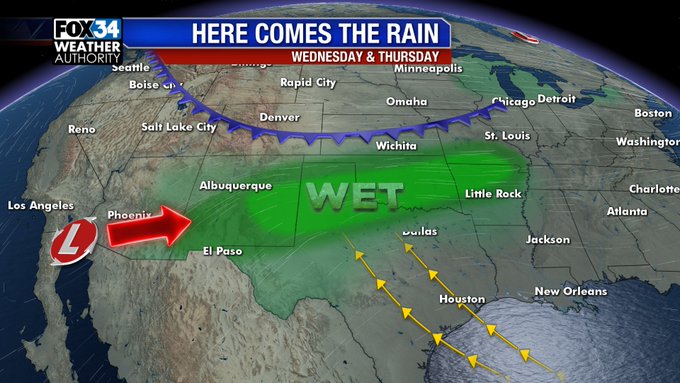 EXTENDED: Some light showers might continue into Thursday behind the front, then precipitation pushes further south. Cloud cover will likely stay in place especially to our southern counties. Temperatures will drop below freezing overnight Thursday, some slick spots possible on the wet roads, but no more falling precipitation expected. We warm up back in the 60s Saturday with a mostly sunny sky. Our next strong front drops in Sunday bring cold temperatures and a breezy wind into Veterans Day.

Have a great day and don't forget to vote today! Matt will have the latest look at these rain chances tonight on the News at Nine.
-Bobby