updated 12:09 a.m. - The National Weather Service has expanded the winter weather advisory south, now including Hobbs, Lamesa and Snyder. The advisory shows where freezing drizzle and freezing fog is likely through morning.
So far the cold air has pushed slightly farther south than we initially thought and the temperature has dropped slightly quicker here in Lubbock. We expect it to drop to 28, maybe 26 in Lubbock. This slightly colder set-up means the icing risk is a little bit greater.
But keep in mind, this all still looks really light. We aren't looking at a major build-up of ice. But sometimes it's the minimal ice that causes problems...because the road is fine then you hit an icy bridge. For morning commute, forecast from below is on-track. We'll likely have at least some slick bridges. Check in with Good Day Lubbock starting at 5 a.m. as well as here on the app/site for the latest information from Bobby Johnston.
---
posted Tuesday afternoon - There's the possibility of freezing drizzle and light freezing rain in the area early Wednesday, which could lead to light build-up of ice, at least on elevated surfaces. The National Weather Service has issued a winter weather advisory for this possibility, shown in white below. It runs from 1 a.m. to 1 p.m. Wednesday.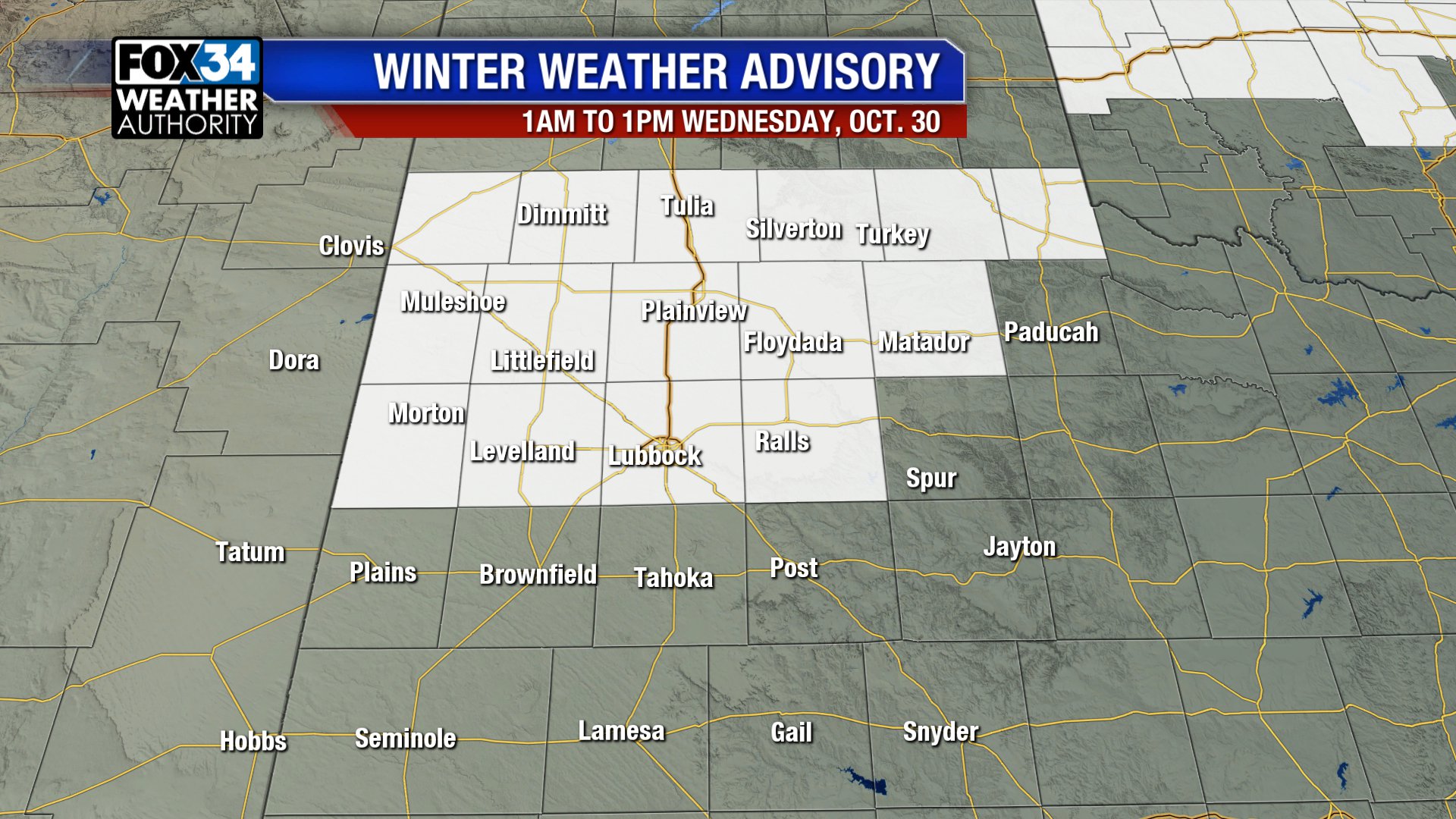 It's cold now and the temperature won't move much next few days.
Late tonight/early Wednesday morning we expect areas of drizzle or light rain to develop. It should be freezing at this point. We don't expect major ice build-up, but there could be enough to at least create some icy patches on bridges. Isolated areas of ice on surface streets are possible, mainly north of Lubbock.
There also could be some light sleet or snow, but it looks like most of this will be drizzle.
Again, this isn't expected to be heavy precipitation. But it'll be enough that there may be slick spots on the roads Wednesday morning. By Wednesday afternoon it should finally climb above freezing, with the high temp in the mid 30s. Clouds may thin just a bit by late Wednesday.
It's also going to be breezy to windy, N/NE wind 15-25mph with higher gusts. This will push the wind chill into the teens.
There should be some clearing by late in the day Wednesday afternoon. Then upper teens are expected Thursday morning, for a record-setting cold Halloween morning. It'll be in the 40s and upper 30s Halloween night. Warmer weather will return late this weekend into early next week.
Join us for the latest update to this forecast after the World Series on FOX34 and again early tomorrow right here and on TV. Bobby will have the updates tomorrow morning.
-Matt