LUBBOCK, Texas -
Things have changed over night with a cloudy sky and some light showers/drizzle possible through this morning. Current radar below:



TODAY: Temperatures will continue to plummet to the 30s through the afternoon. The northeast wind will stay 20-30mph with feel like temperatures in the 20s. Get bundled up!

A cloudy day with drizzle and light rain before noon, then to our northern counties this precipitation will change to snow. A Winter Weather Advisory is in place for Palmer, Castro, Swisher, and Briscoe counties until 1am Friday. This is where snow totals up to 3 inches will be possible, with lighter amounts south as your travel south.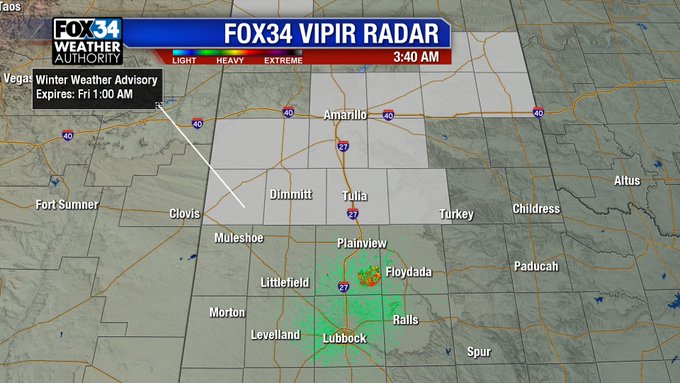 OVERNIGHT: Lows dropping to the 20s for much of the area with close to freezing temperatures to our southeast counties. It will feel much colder as the northerly wind will still be 10-20mph. Snow will diminish from west to east with trace amounts expected in Lubbock. Give yourself some extra time and be a little cautious if driving tonight and in the morning.
FRIDAY: Cloud cover will move east as the upper level low moves out of our area. Cloudy conditions may stick around for the first half of the day for our eastern counties. It will stay cold with the high near 53 with wind speeds still in the teens. A very cold night for High School Football games.
EXTENDED: The weekend looks much nicer with highs in the 70s Saturday. Then models go into a disagreement for Sunday and next week. A few models bring another strong front through our area Sunday with highs dropping to the 50s, the European model keeps us in the 70s. Hopefully they will start to agree more later today, both are keeping us dry with this front.

Stay bundled up with these frigid temperatures! Matt will have the latest updates tonight on the News at Nine.
-Bobby