LUBBOCK, Texas -
Cold front pushing through the area this morning bringing more rain and colder temperatures.
Current Radar

Current Temperatures

This front will likely take most of the afternoon to push south of our area. Scattered showers and storms likely to develop along and behind the front dropping some quick down pours. Heavier rain with multiple rounds of storms possible in eastern New Mexico and our northwestern counties. A Flood Watch is in place for those locations until 7PM.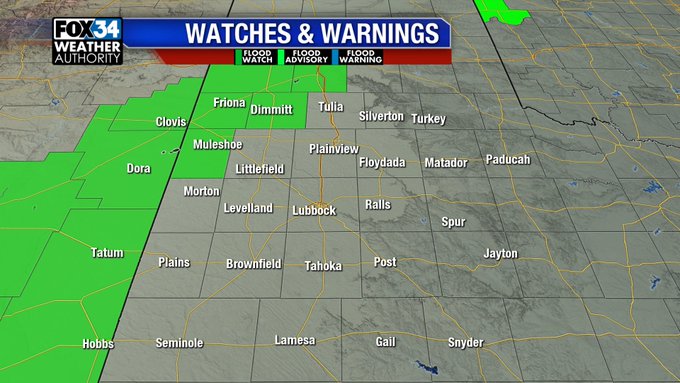 Temperatures will range from the 60s to our northern counties, to the 80s south. Lubbock near 71 with wind speeds increasing with the front 10-18mph.
TONIGHT: Mostly cloudy with lingering showers possible, but thing look to dry out with overcast sky continuing. It will be cooler to start the day with lows in the 50s.
FRIDAY: Heavy rainfall likely to stay west in New Mexico, but might have some evening/ night showers and storms to our northwestern counties. Should stay cool but temperatures will warm in the mid to upper 70s.
WEEKEND: More sunshine and 80s return Saturday... perfect for tailgating and the Tech Football game. Late Saturday a weak front moves through the area and we look to stay dry. Sunday more cloud cover with a stronger front pushing through the area later that night. This will likely bring some isolated showers and storms to the area into the early morning hours of Monday.
NEXT WEEK: Another big cool down with highs in the 60s and 70s with lows in the 50s to start the work week. Rain chances diminish with more sunshine during the day, then warmer temperatures through mid week. Models do show another cool down possible late in the week.

Have a great Thursday! Matt with the next updated forecast tonight on the News at Nine.
-Bobby