LUBBOCK, Texas -
Another hot afternoon in store for us across the South Plains. Highs in the mid 90s with a couple 100s to our far eastern counties. There will be a slight chance for some isolated storms later in the afternoon and evening hours. Models show the better chances for this to our northern and western counties. So if you are going to a Friday Football game just make sure to keep the poncho near by. Rain chances aren't great with most of the area looking to stay dry.
TONIGHT: The chance for rain diminishes when the sun goes down. Some isolated pop up showers or storms still can't be ruled out. Partly cloudy with the low near 69.
TECH FOOTBALL SATURDAY: New season starts tomorrow and temperatures will be a couple degrees cooler, but still hot with the high near 93. A mixture of sunshine and clouds with another chance for isolated afternoon and evening storms.
EXTENDED: Through the rest of Labor day weekend the chance for rain diminishes as the Ridge of high pressure pushes closer to the area. We will stay under a northerly flow in the higher elevation and this will help temperatures to stay a little above average. Something we are not expecting is 100 degree days, but instead lower to mid 90s that continues through the week.

HURRICANE DORIAN: Now has been upgraded to a Category 2 storms with maximum wind speeds of 105mph. This storm is pushing northwest towards the Bahamas and Florida and will continue strengthening. Likely now to become a Category 4 storm before making landfall Monday or early Tuesday. This storm also looks to slow down bringing major concerns for Florida.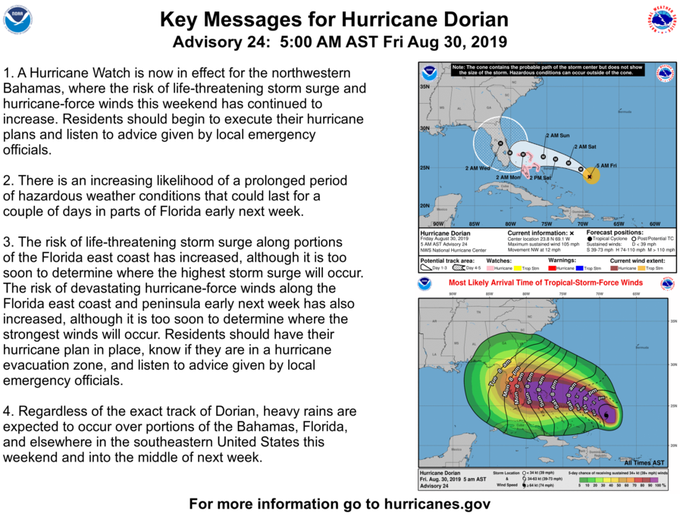 Have a great Friday and weekend! GO TECH!! Matt with the next updated forecast tonight on the News at Nine.
-Bobby