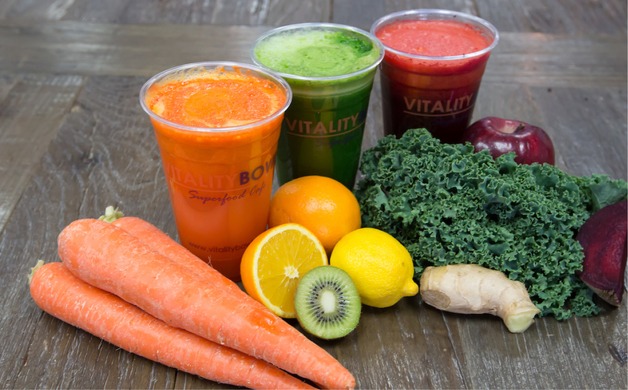 Vitality Bowls makes smoothies that help you fuel up properly before you exercise and replenish your body post workout with recovery foods. The smoothies contain no ice, no frozen yogurt, no added sugar, no artificial preservatives, no trans fats or any other fillers.
Go Green Smoothie: Graviola, Almond Milk, Spirulina, Mint, Spinach, Kale, Banana, Dates
The Hulk: Organic Acai, Guarana, Almond Milk, Spirulina, Kale, Broccoli, Whey Protein, Strawberries, Bananas
Matcha Madness: Organic Acai, Almond Milk, Matcha, Hemp Seeds, Dates, Almond Butter, Banana, Kale
The Powernator: Organic Acai, Guarana, VB Blend, Almond Milk, Strawberries, Bananas, Spinach, Pineapple
The Dragon: Pitaya, Guava Juice, Strawberries, Mango, Raspberries
Tropical Paradise: Organic Acai, Mango Juice, Coconut Milk, Bananas, Pineapple, Strawberries
The Temptation: Organic Acai, Coconut Milk, Guittard Dark Chocolate, Raw Cacao, Strawberries, Banana
Vitality Bowls is located at 2400 Glenna Goodacre, Suite 106D.