Current radar image:
update 10:13 p.m. - The storms that moved through Lubbock were prolific lightning producers. Thankfully, the hail wasn't too bad. Largest hail report we've had in the area tonight has been a few isolated 1.5"-diameter reports. Most have been smaller.
Now we're watching storms move east over the Rolling Plains. Each of these in the yellow severe boxes could produce 60mph gusts, along with some hail.
---
update 8:41 p.m. - A severe thunderstorm warning is in effect for Lubbock and Lubbock County as well as eastern Hockley and western Crosby counties until 9:30p. Some 1.5" hail was reported at Shallowater, though indications have come down a bit last few scans. That storm is moving east near the Airport. Not all of Lubbock is going to get the worst of the storms.
New development is ongoing a little farther west, from Shallowater to Sundown. This should continue east into Lubbock and may have some hail, as well.
Larger hail is indicated in Floyd and northern Crosby counties, moving east.
---
update 7:39 p.m. - A severe thunderstorm warning is now in effect for a storm passing between Littlefield and Whitharral, moving ESE at 30mph.
Right in the core of the storm 1.5" hail is possible, along with 60mph wind. Across a much broader area, gusts of 30-40mph are likely ahead of the storm, kicking up some dust.
---
update 7:24 p.m. - There are a few severe storms in the area, both to the NW and SE of Lubbock. One storm that's prompted a severe warning for Bailey and Lamb counties may be producing 60 to 70mph gusts as it moves across US 385 south of Springlake, north of Littlefield. It's moving east around 30mph.
And also, destructive wind is indicated on radar to the southeast of Snyder, storm moving NE.
Storms will continue spreading from west to east. Not everyone will get severe weather, but some storms will have the potential to produce very strong wind and hail.
---
posted 5:47 p.m. - The Storm Prediction Center has issued a severe thunderstorm watch for Lubbock and the South Plains until 1 a.m., areas in green below.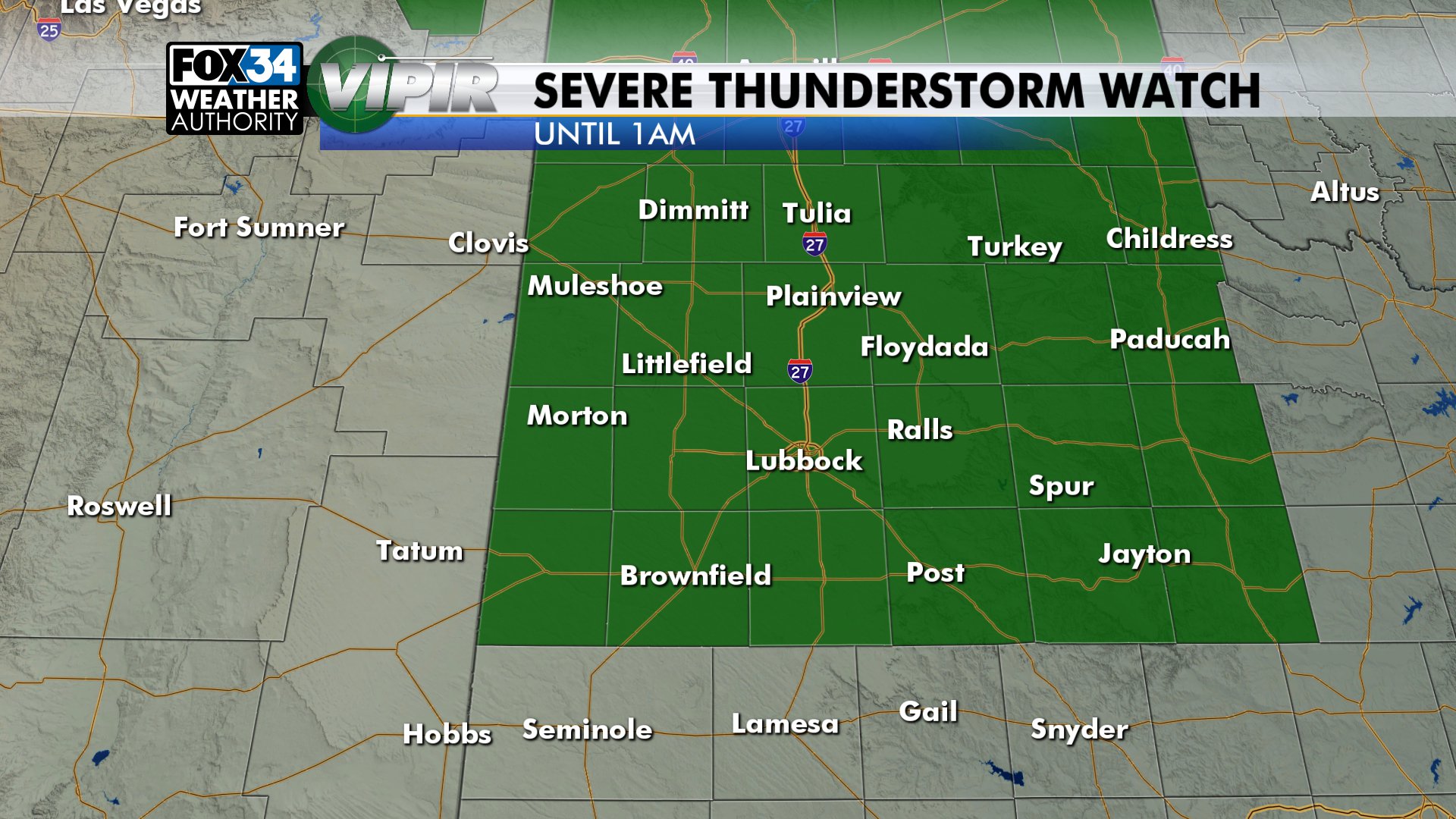 Storms that move in from the west will bring the risk of strong wind and some hail. Storms may linger into early morning, then will push farther east.
The next several days will turn drier and hotter, though we can't rule out an isolated storm. Thursday or Friday should bring the first 100-degree reading for Lubbock of the year. The wind will get stronger this weekend.
Have a great rest of the day. Bobby will have a full update to the forecast here early tomorrow. I'll post updates as needed on the storms through tonight.
-Mat