update 9:59 p.m. - We'll keep an eye on FOX34 VIPIR next few hours. At this point the larger coverage of showers and storms is up in the Panhandle, moving SE. But if it expands farther southwest, then the complex would cover more of our area. Here is current radar:
The much better chance for storms is northeast, near Childress and Paducah. But we'll keep a slight chance for storms across the rest of our area through early morning. Main risk from storms is strong wind. Most of our area will miss the storms.
update 7:41 p.m. - The Storm Prediction Center in Norman has issued a severe thunderstorm watch for Lubbock and locations west to the state line and north up to the Panhandle.
Storms moving in from the northwest will bring the risk of damaging wind and some hail, though coverage may be limited. We'll have a better idea on how storms will evolve and if they'll hold together across our area in a few hours.
posted 5:11 p.m. - THIS AFTERNOON: It's quiet around the South Plains, more active in New Mexico. A severe thunderstorm watch is in effect until 9p MDT for areas in green below across Eastern New Mexico.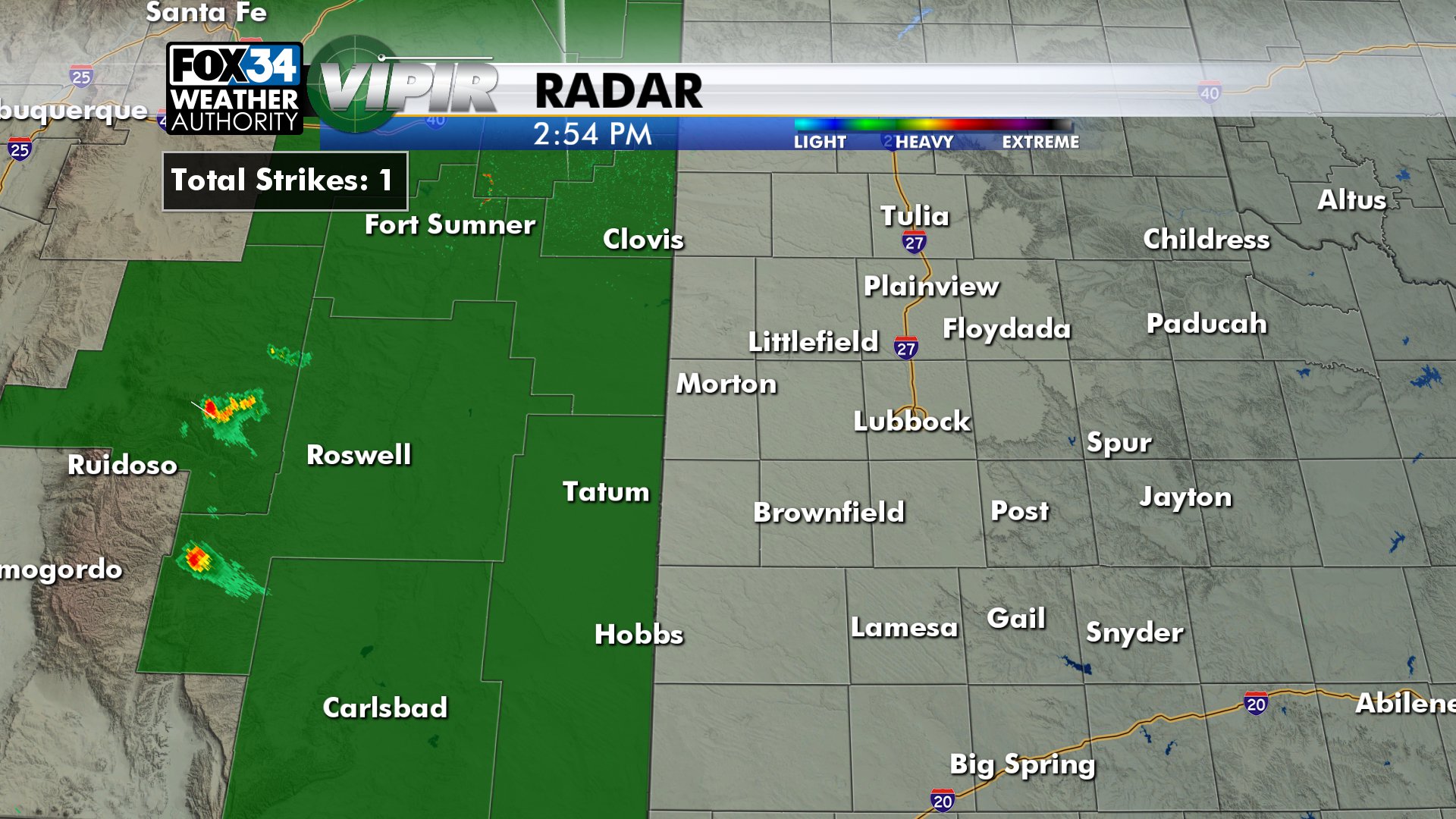 Some storms in the watch could produce strong wind and hail. Here is current radar:
TONIGHT: There is a slight chance for late night/early morning storms in our area. Conditions aren't great for storms in New Mexico to move across our area. Several model runs show the storms diminishing. But can't completely rule out a few storms surviving through early morning. If they make it, they'll bring some strong wind. Morning low near 65.
TOMORROW: Hotter and breezy, high near 95, wind S/SW 12-22mph. With this much heat and some humidity, a few isolated storms are possible by late afternoon. A few communities southwest of Lubbock may make it to 100.
NEXT FEW DAYS: Saturday will be a little hotter, near 97. Breezy wind again. It won't be quite as hot Sunday.
The air won't completely dry out. And with this much heat, a few isolated storms are possible each afternoon this weekend through early this week. But only Monday at this point has enough of a chance to put it on the 7-day. Even then, the chance is pretty low.
Have a great rest of your day. Bobby will have a full update to the forecast here early tomorrow.
-Matt