Here is current radar:
8:09 p.m. Storms are now in northern Hall and Childress counties, moving NE. Things are quieting down for the evening. Initial information in to the National Weather Service show some damage in northern Plainview. A semi truck was overturned, a cell tower downed and a mobile home flipped. It's too early to know if this was a tornado or straight-line wind. There was strong rotation on radar at the time.
The map below shows where there was later a tornado report.
---
---
6:28 p.m. - A tornado was reported near Cotton Center, has since lifted. Tornado warnings remain in effect for parts of Hale, Floyd, Swisher and Briscoe counties.
---
5:54 p.m. - We're on TV now for significant storms north of Lubbock. A tornado warning continues for NE Hale County, including Plainview.
---
4:47 p.m. - There are two storms showing rotation northwest of Lubbock, southwest of Littlefield and west of Hale Center. Either one could strengthen and produce a tornado, though we aren't to that state just yet. Also, very large hail with a storm near Denver City.
---
3:29 p.m. - The Storm Prediction Center has issued a tornado watch for areas east of Lubbock, in blue below. The watch goes until 10 p.m. Meanwhile, a severe thunderstorm watch (green) remains in effect for Lubbock and points west until 8 p.m. Central. Main concern today is large hail and flooding. But by later today into tonight the tornado risk will increase a little bit, prompting the tornado watch. It's not that there's a sharp cut-off of risks between the watches. It's that the later we go today there potential for tornadoes will be a little bit greater, but main concern will still be hail and flooding.
Also, thankfully the storm below appears to not have produced a tornado. And it weakened as it moved near Plainview.
---
2:27 p.m. - Tornado warning SE Lamb, SW Hale counties. Take cover near Spade. Storm is moving E 25 to 35mph.
---
1:59 p.m. - Scattered severe storms are moving across the area, from SW to NE. Large hail is indicated with storms and we're seeing increased rotation with a storm SW of Littlefield.
---
Severe thunderstorm watch for counties in green until 8 p.m.
---
10:28 a.m.- After some very heavy rainfall yesterday, additional showers and storms are expected in the area this weekend. Not everyone will get the rain, with the lowest chance in Eastern New Mexico and the southern Rolling Plains.
Storms should develop in our area by mid-afternoon. They will move from southwest to northeast. The Storm Prediction Center has highlighted most of our area with the risk for severe weather, 5 the greatest risk. It's 2/5 in yellow, 3/5 in orange: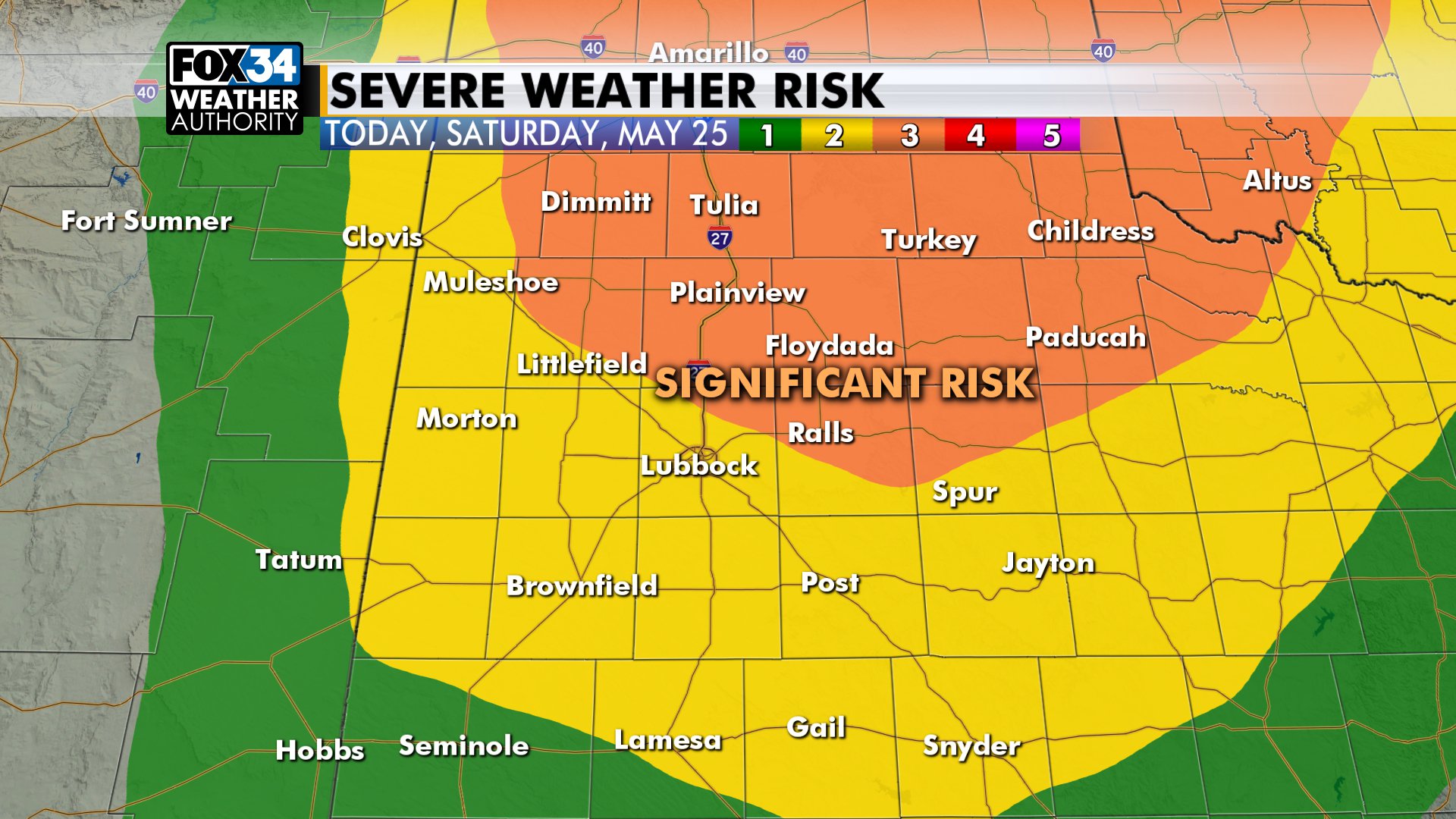 Main concerns are large hail and flooding. But damaging wind is possible. There could be a few isolated tornadoes.
The flood watch has been extended through at least Sunday morning. Parts of our area have picked up three to six inches of rain past few days. Yesterday it was a record 2.6" of rain at the Lubbock airport, pushing it to 6.83" of precipitation YTD. That's 1.27" above the YTD average.
There is a risk for more severe weather tomorrow: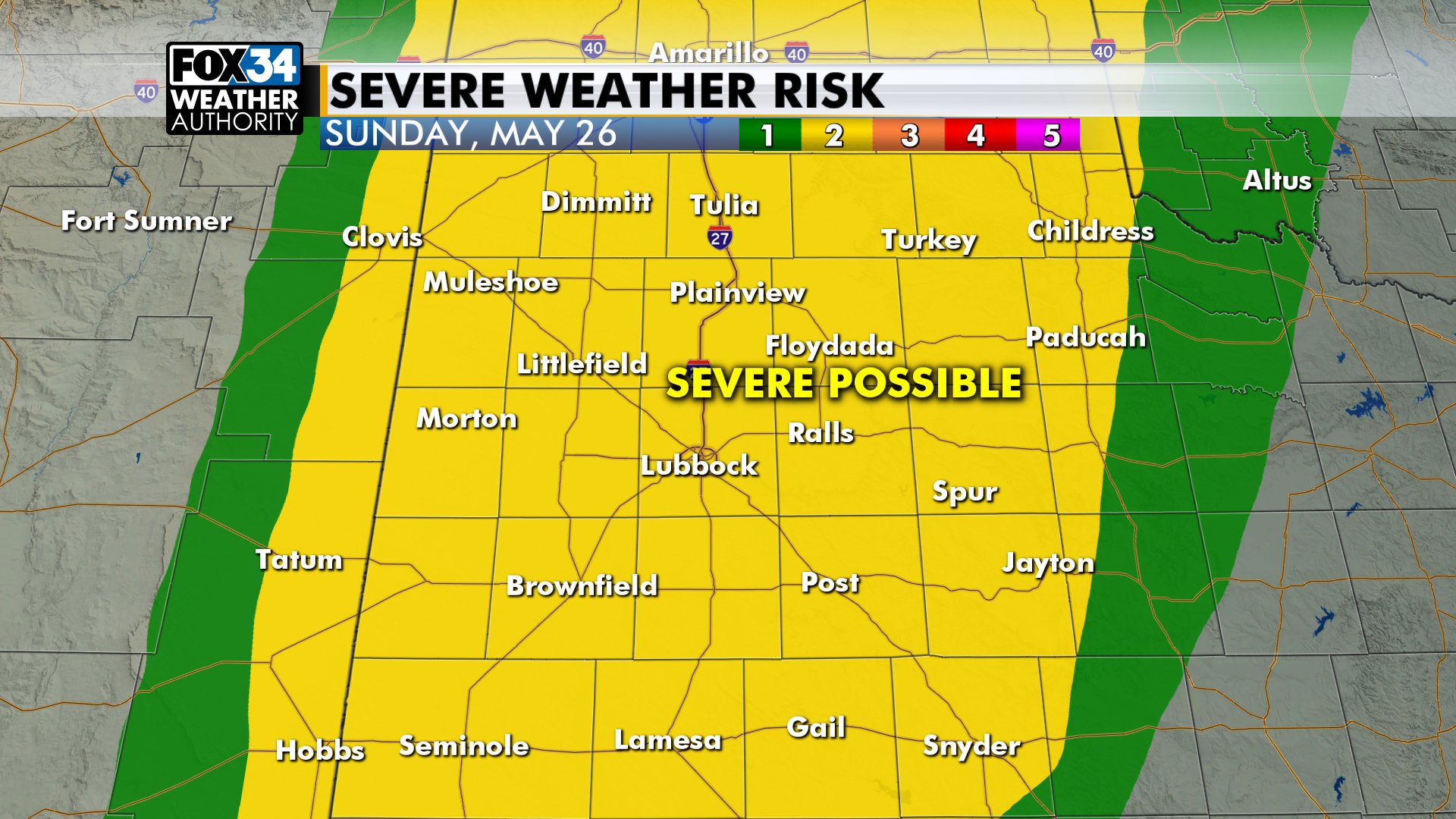 The storm chance is lower Monday, the dry line may mix east of Lubbock. Then we'll get a break from storms for a couple days.
Check back here for more updates. Since it's the holiday weekend, make sure wherever you are you have multiple ways to get warnings. Even if a storm isn't severe, it's not safe to be outside if it's thundering. And if on a lake or out camping, keep in mind it'll probably take more than a few seconds to get to a safer spot.
-Matt