Here is current radar:
9:35 p.m. - Large hail has been the main problem today and tonight, with golf ball-size hail reported around parts of Lubbock. Baseball-size hail was reported west of Lubbock, near Smyer, with other large hail reports scattered around the area. Storms right now stretch from Tatum, NM to near Lubbock to Floydada, all moving ENE. The Storm Prediction Center will issue a severe thunderstorm watch because we aren't done with storms yet. Main concern will remain large hail, though an isolated tornado can't be ruled out.
5:52 p.m. - The NWS received a report of a brief anti-cyclonic tornado at 5:28 west of Brownfield. It didn't last long. Anticyclonic means it was rotating clockwise. This storm continues to pose a risk of golf ball-size hail and 60mph wind as it's moving NE over Terry County. If it continue NE, it would get closer to Wolfforth around 6:30.
5:18 p.m. - Severe storms have developed over the western South Plains. They're moving NE around 30mph. The storm west of Brownfield could get closer to Lubbock and Lubbock County after 6:30. It appears to be producing golf ball-size hail and has some rotation with it. A storm near Springlake has probably 1.5" hail and also about 1.25" to 1.5" hail near Denver City.
3:19 p.m. - Tornado watch until 10 p.m. for Lubbock and counties in blue. Primary concern today is for some storms to produce very large hail, but there is the possibility for damaging wind and a few tornadoes.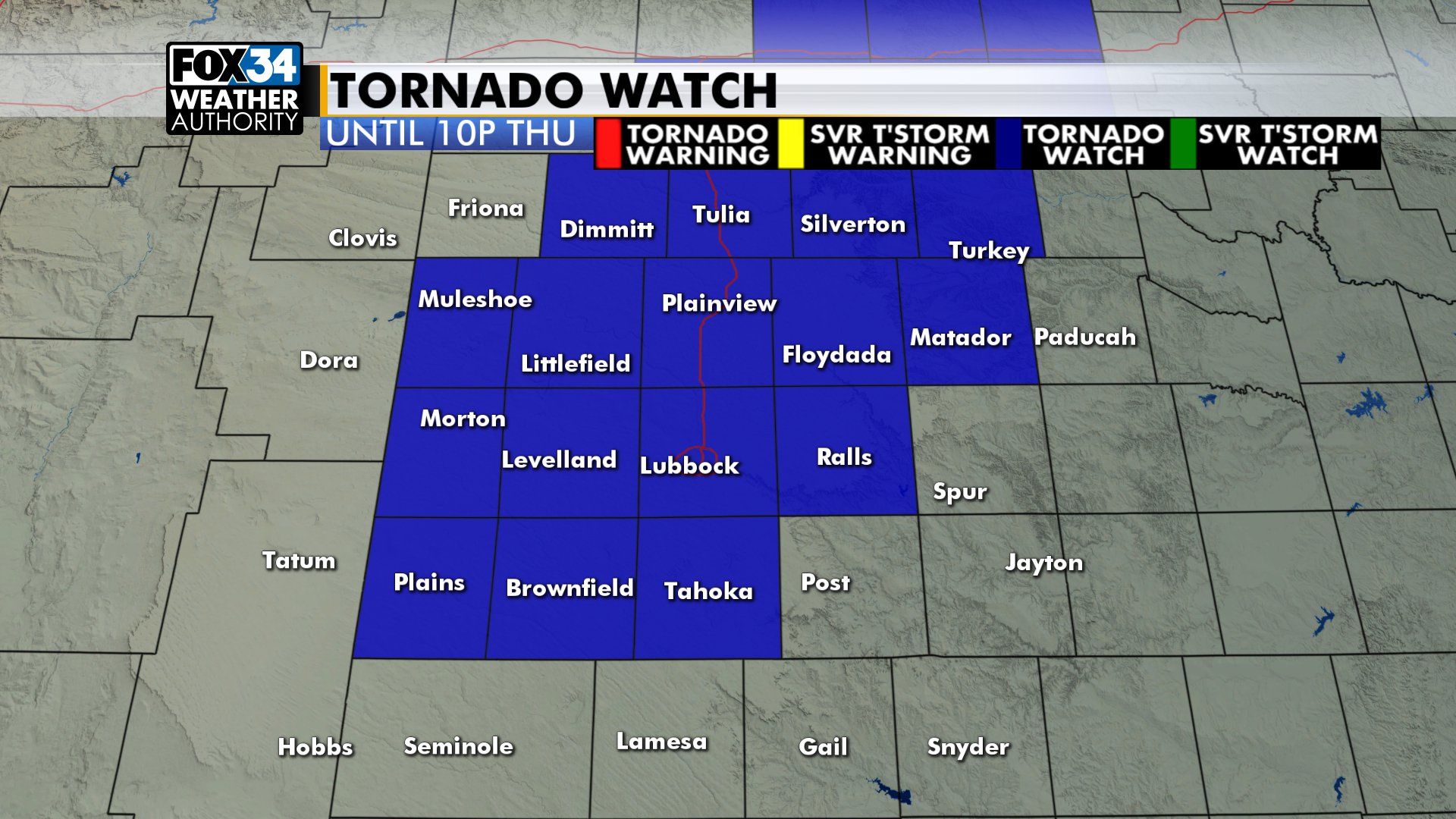 3:07 p.m. - It's a humid, warm day. We have the ingredients in place for severe weather. In fact, some flooding will be possible with multiple rounds of severe storms.
A triple-point is over the SW Panhandle or NE New Mexico. This is the intersection of a cold front and a dry line. To its southeast, the environment is highly unstable, to support very large hail, damaging wind and a few tornadoes. North of the front it's in the 60s and 70s over the Panhandle. To its south we have mid 80s. The dew point is in the 60s and even low 70s, showing it's muggy.
TIMELINE: Storms are expected to develop next few hours over the western part of our area, then will move to the northeast. More storms should develop in the area this evening and possibly more late tonight/early morning.
RISKS: Not everyone will get the worst of the weather. Keep in mind the actual coverage of severe weather is smaller than the coverage of rain and storms. That said, primary concern today is hail larger than 2" diameter. Some 70+ mph gusts will be possible, along with a few tornadoes.