DRY DAY: The dew point has been in the teens to 30s across our area today. This is really dry air. With it, we've had plenty of sun with the temperature reaching the 90s. The humid air, with the dew point in the 60s and even 70s is not far away, just east and southeast of our area.
There's more severe weather today, including some tornadoes, across Oklahoma. Tornado watches run from near Wichita Falls all the way up to west of Chicago.
TONIGHT: Humidity will rapidly return to our area, on a strong S/SE wind. You can watch the dew point climb below. 60s show humid air, 30s show dry air.
By early morning there's a slim chance for a storm. Latest rapid-update models have placed this northwest of Lubbock. The chance for a storm isn't great, but it does look like we'll have some drizzle or light showers across the area. Low near 67.
TOMORROW: Partly to mostly cloudy, windy, high in the mid 80s. By late afternoon into the evening some storms will probably develop. Not everyone in our area will get a storm.
A dry line will develop near the state line then mix east, probably winding up somewhere west of Lubbock. Our thinking now is near US 385, Littlefield to Brownfield. Storms east of the boundary could become severe, with large hail and strong wind. The tornado risk is lower, though one or two tornadoes are possible.
Here is the Storm Prediction Center's outlook for tomorrow, showing the greater risk (3 out of 5) in orange: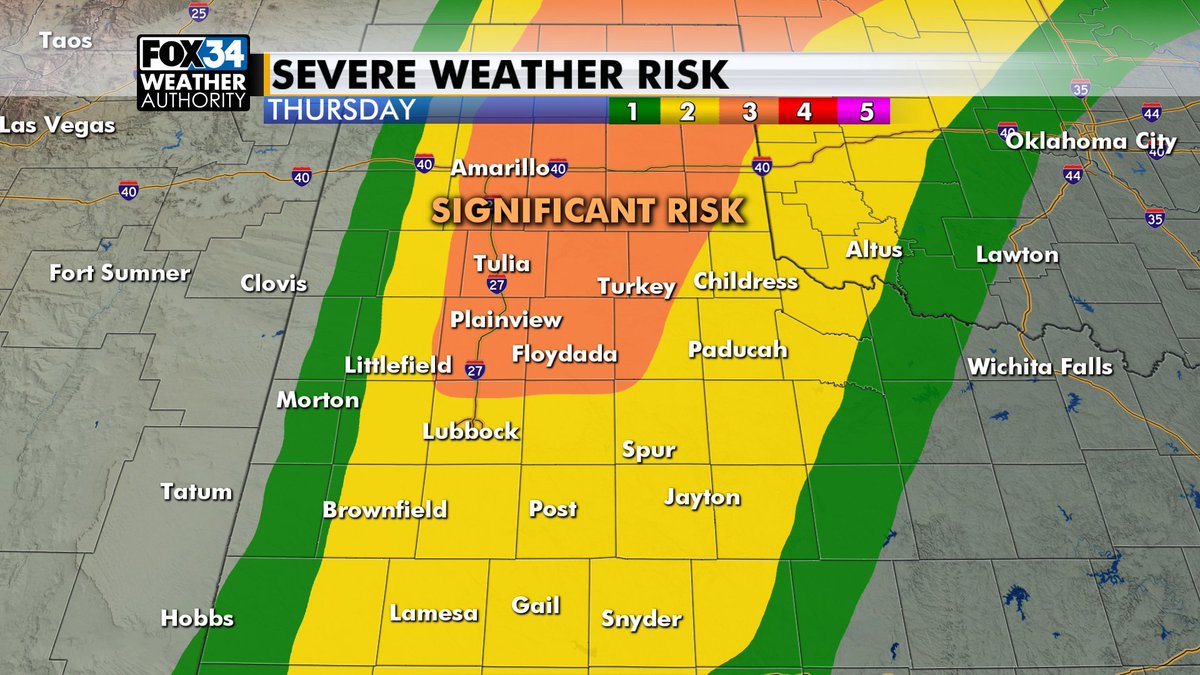 Storms are expected to become more numerous late Thursday night into early Friday morning.
ACTIVE PATTERN: The dry line will probably be active each afternoon, ending up somewhere west of Lubbock. This will keep most of our area in the humid, unstable air. The chance for rain and storms looks greater Friday, though the severe weather risk is a little lower.
There is the possibility for some severe storms in the area each day through Memorial Day. Latest data pushes the dry line farther east Monday, so it may only be the Rolling Plains that sees storms that day.
Like we've seen past few weeks, severe storms don't cover all of the area. You probably won't get rain each day, but it's pretty likely most of our area will get some more rain over the coming days. The western South Plains and Eastern New Mexico may miss out, with the dry line likely setting up east of your location each afternoon.
Have a great evening. Bobby will have the latest update to this forecast and a track of FOX34 VIPIR in the morning on Good Day Lubbock and the updated Weather Blog post right here.
-Matt