LUBBOCK, Texas -
Severe Thunderstorm Watch for the western half of the area until 10am, areas in green below. Storms that develop could produce severe hail 1-2" with wind gusts 60mph. This has happened in northeastern New Mexico and toward the Panhandle already this morning. Storms that develop will be traveling from southwest to northeast at a quick pace.

TODAY: High near 87, windy south/southeast wind 18-28mph. After the possible round of storms this morning, things will continue to escalate for the area. We have all the ingredients for tornadoes, very large hail greater than 3", damaging wind gusts, and flooding. The second round of storms should start to develop early this afternoon 2-5 PM. Make sure you have a plan ready at work in case of a tornado. Multiple rounds of scattered to widespread storms will continue through the evening.
The Storm Prediction Center has a high risk(5/5) in our area, pink highlight below, which happened only 5 other times for the South Plains, the last being 4/26/2009.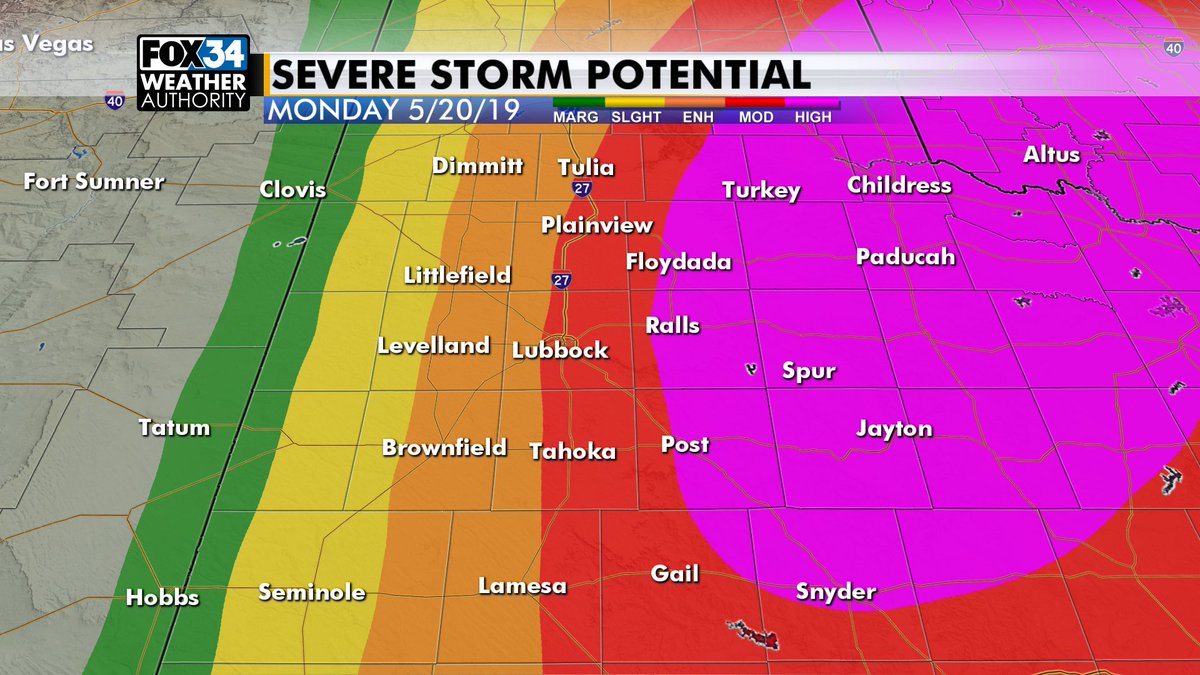 Take today seriously as storms can quickly develop and become severe. But also know that not everyone in our area will experience severe weather. And the worst of it will only affect a tiny percentage of the area.
TONIGHT: Storms will likely continue to develop with the last round exiting the area in the early AM. Models show a large line of storms to develop as a front pushes through the area. Low near 54, wind will stay strong 15-25mph.
SUNSHINE: This system clears with sunshine expected through mid week. Highs will be a little cooler Tuesday with a stronger west wind 25-35mph. Then warming back to the mid and upper 80s Wednesday with a calmer but breezy wind.
MORE STORMS: Ending the week with the possibility of addition storms, again possibility of severe storms. Another dry line set up as a low pressure digs to our western counties then pushes across the region.

Make sure you have multiple ways to receive your weather information including following @BobbyJohnstonWX, @FOX34, and @matternst34 on Facebook and Twitter.
-Bobby