It was a relatively quiet weekend, although Saturday was a bit windy. Temperatures were a little warmer today, but over the next 24 hours or so, it could get a bit boomy.
The viewing area is under a risk for severe weather tonight and into Monday evening. As of right now, it looks like some storms could flare up around the 3 a.m. hour and slowly progress eastward across the area. By the afternoon, another round is likely to pop up, although we think it will progress eastward a little faster.
The greatest risk for severe weather remains to the northeast of Lubbock, including Childress, Turkey, and Paducah. That doesn't mean that the rest of the South Plains shouldn't be watching the weather over the next day or so, because strong wind, large hail, or an isolated tornado is possible across all of the Texas South Plains.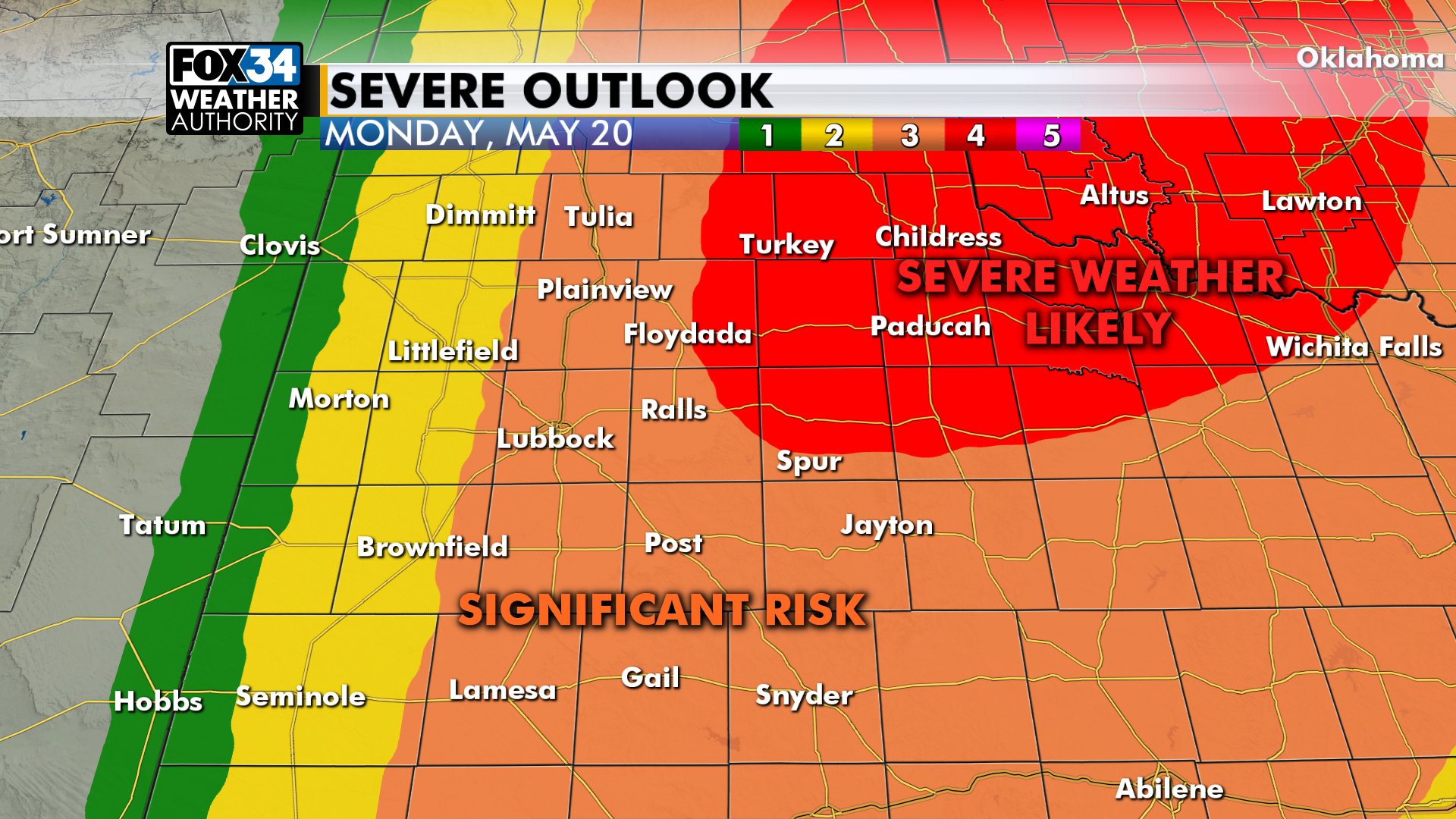 The storms tonight will be while most of us are sleeping. Be sure to have a weather radio ready, or some other method of waking you up should severe weather pop up in your area, especially if you live in a mobile home, and especially should a tornado develop.
The wind has shifted, thus bringing more heat and moisture across the area, and that is what will help fuel the chance for storms tonight and tomorrow. This forecast has the tendency to change, but we're fairly confident that some places will see a strong storm. Some places will see nothing. The small-scale details are tough to resolve until the storms develop and we see what the environment looks like. We'll, of course, be looking at new forecast guidance through the day. We know many of the ingredients will be in place, but nowhere in our area is it a 100% chance for rain or storms.
TONIGHT: Isolated thunderstorms, some of which could be strong. Low of 64°. ESE wind 15-20mph.
MONDAY: Thunderstorms by the afternoon/evening, some of which could be strong. High of 87°, SE wind 20-25mph.
We get a break Tuesday and Wednesday, perhaps a bit windy still. Chance for some storms returns as we approach the end of the week. Right now, it's not looking severe, but it's still a ways out.
~RG3
-------
On Facebook: Meteorologist Robert Gauthreaux III
On Twitter: @DrRGIII