This is a quick update Sunday morning letting you know severe weather is expected in our area Monday. It may come in a few rounds, first one before sunrise.
Keep in mind, when it comes to bad weather, the actual number of people in an area that gets the worst is pretty limited. San Angelo and Abilene were both hit by bad storms yesterday, as were a few other communities in the region. But even though those cities both had severe weather, it wasn't all of the city. You have to be prepared to get to a safe spot, but don't think even if we do get bad weather it'll be everyone in the South Plains area.
update 1:49 p.m. - Update to add that the NWS San Angelo has found damage to rate yesterday morning's Abilene tornado at least an EF-2. A survey crew already rated San Angelo's tornado an EF-2.
This morning's Storm Prediction Center outlook for tomorrow shows the risk for severe weather across all of our area. The greatest risk, in red, (4 out of 5 on the scale) is for the northeastern South Plains, northern Rolling Plains, eastern Panhandle and roughly the western half of Oklahoma: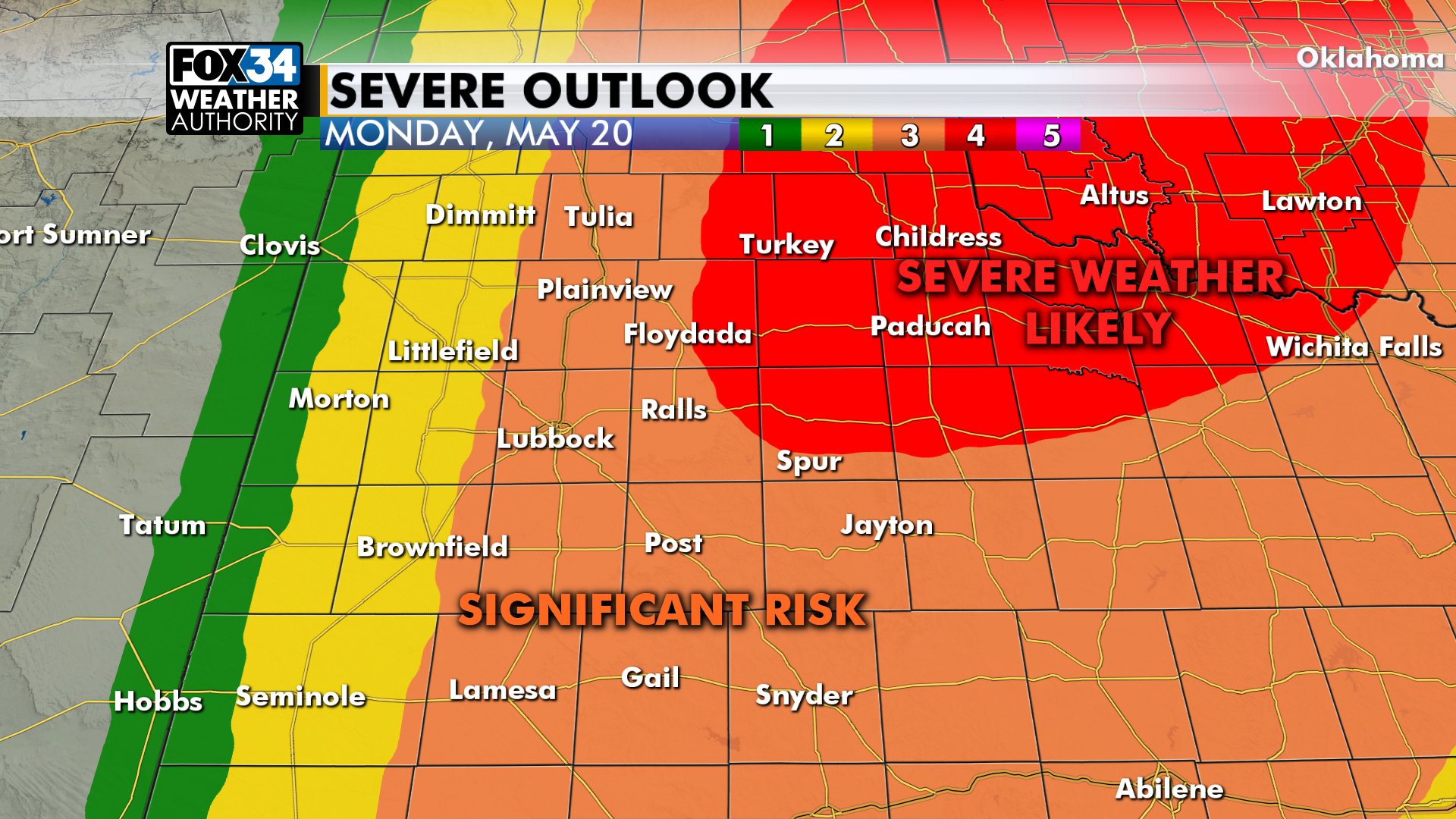 SET-UP: It'll be dry, sunny and warm today. A strong upper-level storm system over the western United States will help draw up very humid air into our area late tonight.
TIMING: Some storms are expected to develop early Monday morning, probably 1-3a Central, near the state line, then spread east. This would put them closer to I-27/US 87 between 4 and 7 a.m., then over the Rolling Plains after sunrise. While it won't be the middle of the day, there will be some instability and high levels of shear for these storms to become severe. Main risk is hail and some strong wind.
From here, the timing is less certain. It looks like another round of storms will develop some point in the afternoon. The dry line will sharpen up and have warm, humid air (dew point 60s and low 70s) to its east. Computers show the dry line could be anywhere from the western South Plains to just east of Lubbock. Wherever it sets up, to its east will be the environment for severe storms. With this strong of an upper low, the dry line probably won't surge too far east, but we'll simply have to wait and see where it moves.
During this afternoon round, very large hail, damaging wind and a few tornadoes will be possible. A long-track, strong tornado is possible, greater concern for this in the red-highlighted area above.
Computer guidance shows stronger lift moving overhead during the evening, meaning another round of storms could blow up Monday evening, again with the severe risk. We should be done with storms by late Monday night.
With so much humidity in the air, and the intensity of these storms, flooding will be possible.
UNCERTAINTIES: Here are some questions we still have.
- Will morning round of storms limit available energy for afternoon round? Will it make atmosphere disorganized, limiting severe potential?
- Will dry line mix east of Lubbock in the afternoon, limiting severe potential to just the Rolling Plains and leading to a dry day in Lubbock?
- Will a cap stay in place, so that only a few isolated storms develop in the afternoon?
- If the dry line does mix east, will it retreat west for an evening round of storms to develop?
- Will afternoon or evening storms quickly grow into a line, thus limiting tornado risk but increasing wind threat?

At this point I think of Hedley Lamarr in Blazing Saddles, "Why am I asking you?". You clicked on this entry for an update on the storms, not a back-and-forth.
Those questions are parts of the forecast we don't know, and likely won't know until the storms develop. We'll, of course, be looking at new forecast guidance through the day. But the small-scale details are tough to resolve until the storms develop and we see what the environment looks like. We know many of the ingredients will be in place, but nowhere in our area is it a 100% chance for rain or storms.
Robert will have another Weather Blog posted by this evening. Be aware that severe weather is possible at your location tomorrow, it's pretty likely you'll get some rain, but no need to freak out and be overly concerned.
-Matt