THIS AFTERNOON: It's warmed to the upper 80s to lower 90s even though clouds increased this afternoon. There are a few storms that have developed in New Mexico that are moving east.
THIS EVENING: A few of those storms in New Mexico may make it east of the state line, but will probably fall apart the later we go. Just a slim chance for a shower or weak storm late.
Humidity will increase tonight on a gusty south wind, low temp near 65.
TOMORROW: It'll be warm and windy. The storm chance is less certain. High near 87, wind SE/SW 18-30mph.
The dry line will likely mix east of Lubbock during the afternoon. That's the boundary separating dry air west and humid air east. A few storms may develop east of the dry line. So it'll be a day where we're watching the dew point through the day, knowing storms could develop by 4 p.m. wherever the dew point is in the upper 50s and 60s. At this point that looks more likely east of Lubbock, over the Rolling Plains, although the computer models are probably a little too aggressive on mixing the dry line east.
It's also important to note that there may be a cap in the mid levels of the atmosphere that prevent storm development. It's possible no storms develop during the afternoon.
Then later tomorrow night the dry line will retreat west, meaning the humid air will be across more of our area. Some upper-level energy may move overhead late tomorrow, helping to develop some night-time storms.
Yes, that's a lot of text to explain that we aren't certain that storms will develop, but there is the possibility late afternoon through early Saturday morning, better chance farther southeast.
That said, if the storms can get going, there's a good chance they'll become severe. The main concern is large hail. Damaging wind is possible, an isolated tornado is possible. The Storm Prediction Center outlook below shows the greater risk area is in orange.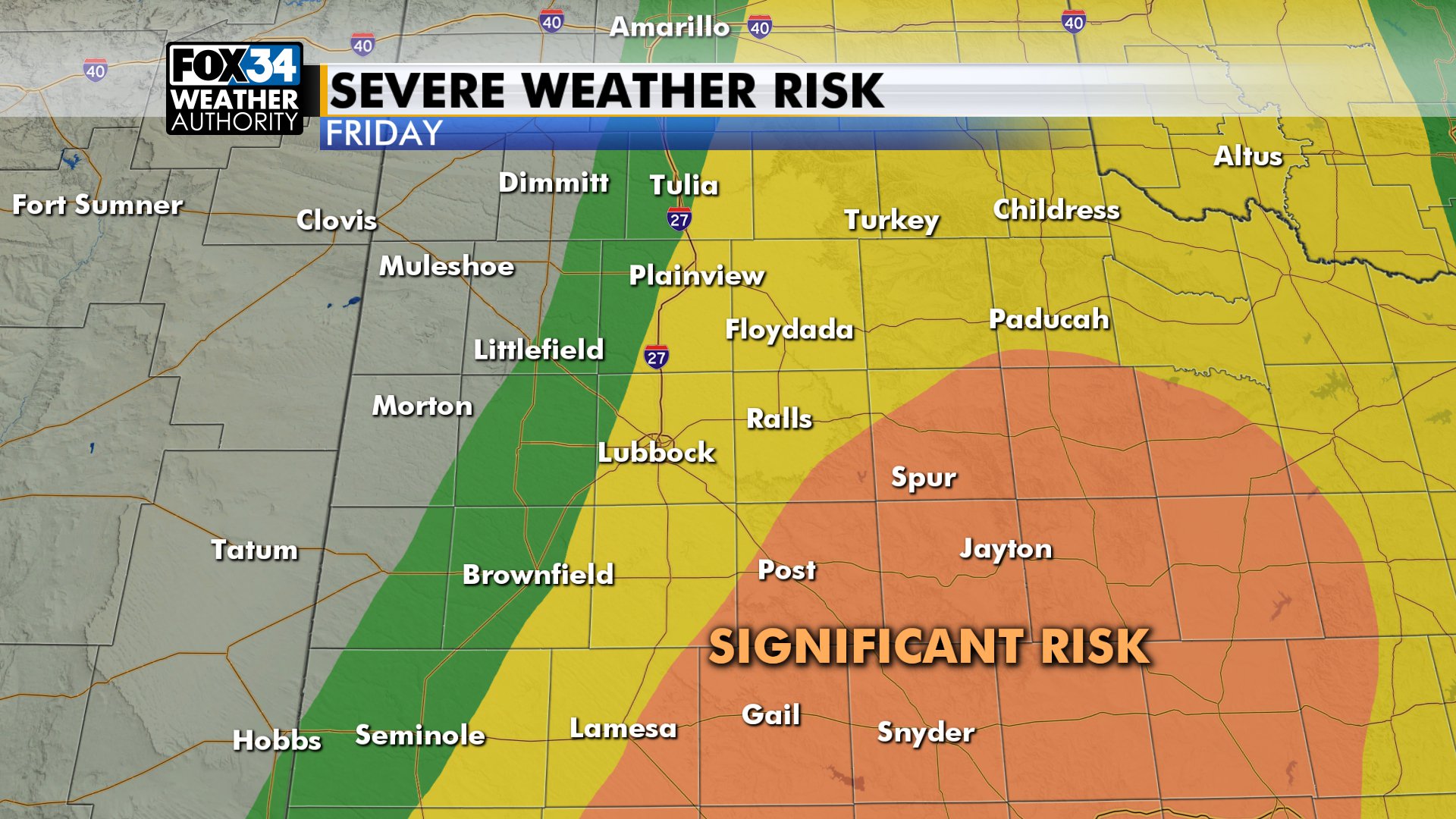 WEEKEND: It'll be sunny, dry and breezy to windy both afternoons.
NEXT WEEK: Our next storm chance arrives Monday. Some strong to severe storms are possible. Then our next storm chance will probably be Thursday or Friday.
Have a great rest of your day. Bobby will have a full update posted here early tomorrow.
-Matt