THIS AFTERNOON: It's a sunny, warm day with the temperature in the mid 80s. Tomorrow will be similar to today.
TONIGHT: Mainly clear, low near 60. Wind S/SE 5-12mph.
TOMORROW: Slightly warmer and breezy. High 89, wind S/SW 12-20mph.
STORM CHANCE: An upper-level storm system now off the California coast will move inland next few days. Ahead of it, humidity will return to our area. By Friday afternoon the dry line will sharpen and start to mix east. Also thanks to the storm system out west, a piece of energy is expected to move across our area, promoting lift for storms.
There is still some uncertainty on exactly where the dry line will set up by the afternoon. Some computer models have it near I-27/US 87. Others near U.S. 83 from Paducah to Guthrie. Wherever it sets up, to its east there will be warm, humid air. This will be fuel for storms.
There is also the possibility that storms first erupt east of our area in the afternoon, then the dry line retreats and we see big storms Friday night.
Because of the above factors, the Storm Prediction Center has the severe outlook below. Low potential for severe storms in green, a little higher in yellow, greater risk in orange.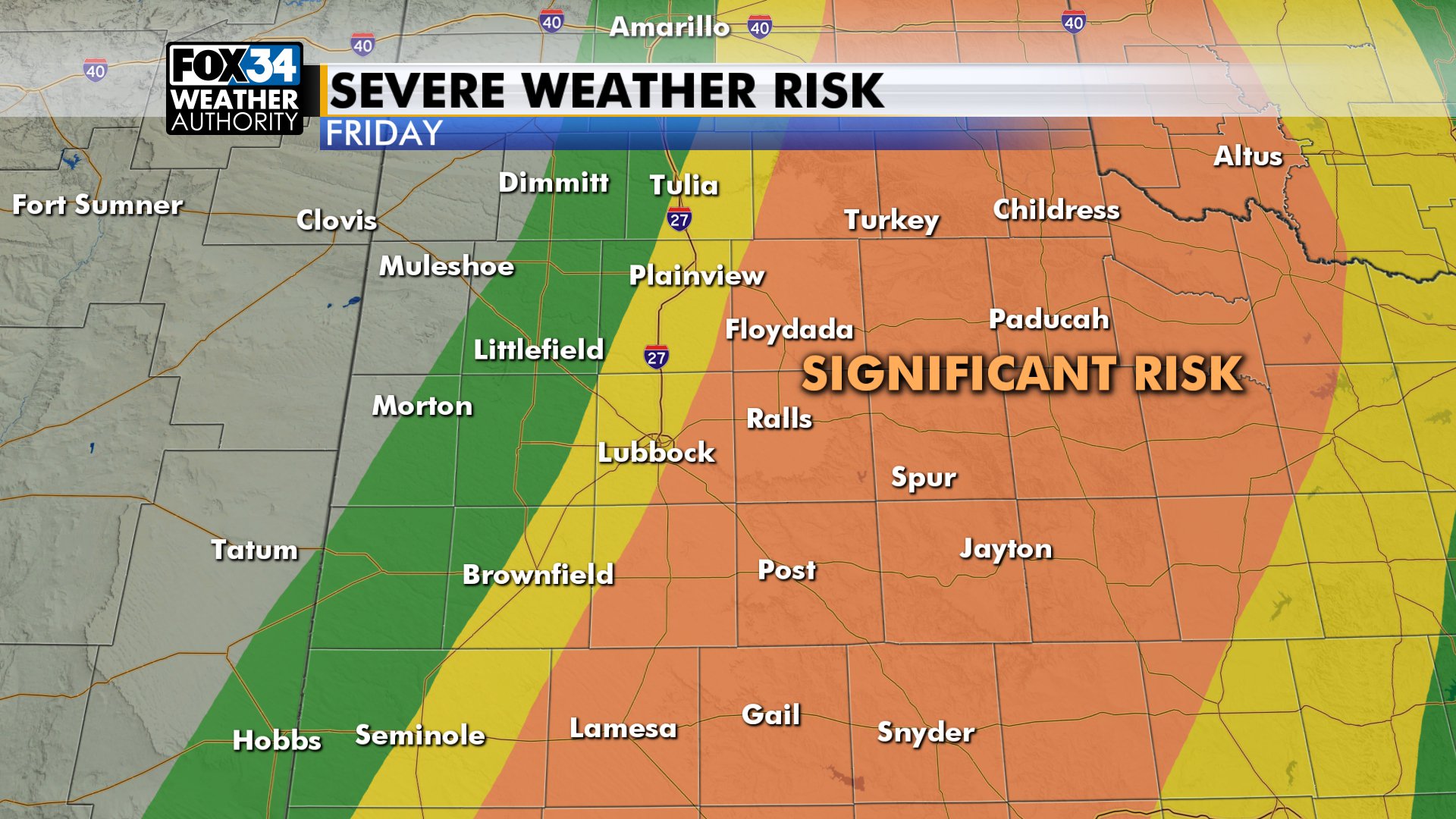 For now, we have a chance for storms late Friday in Lubbock. Locations west near the state line probably won't get a storm. It's a much better chance for storms from Paducah to Spur. The above outlook will be refined some in the coming days. But it'll probably be a day where we can't get specific on the storm risk until we see exactly where the dry line sets up. We're confident some severe storms will develop in the region, but we are not confident on the exact placement...whether it'll be near Lubbock or 100 miles to the northeast.
NEXT FEW DAYS: The weekend will be dry and windy. Then humidity will return for a low chance of storms Monday. After that, next storm chance will probably be next Thursday or Friday. It'll be windy each day Friday through Wednesday.
Have a great rest of your day. Bobby will have the next update to the forecast here early tomorrow.
-Matt