LUBBOCK, Texas -
---
updated 11:07 p.m. - Some thunderstorms are developing over Lubbock and the central South Plains now. These will move to the NE. We could see some strong to even severe storms late tonight into early morning, though these storms aren't right now. The chance for storms will linger into early morning, with an upper-level disturbance passing across the region.
---
updated 6:07 p.m. - It's been an active afternoon. We had a few tornado touchdowns around Tulia. That storm at this writing is still producing a tornado northeast of town, moving northeast. Elsewhere we've had scattered severe storms producing hail. Largest hail right now is around Seminole, golf ball- to tennis ball-size hail in town. That storm is also moving NE.
The risk for severe weather continues this evening, primarily being hail. A few more tornadoes are possible, along with damaging wind and flooding.
---
updated 3:00 p.m. - The Storm Prediction Center has issued a tornado watch for Lubbock and the South Plains, in effect until 11 p.m. The first storms are developing now over the northwestern South Plains.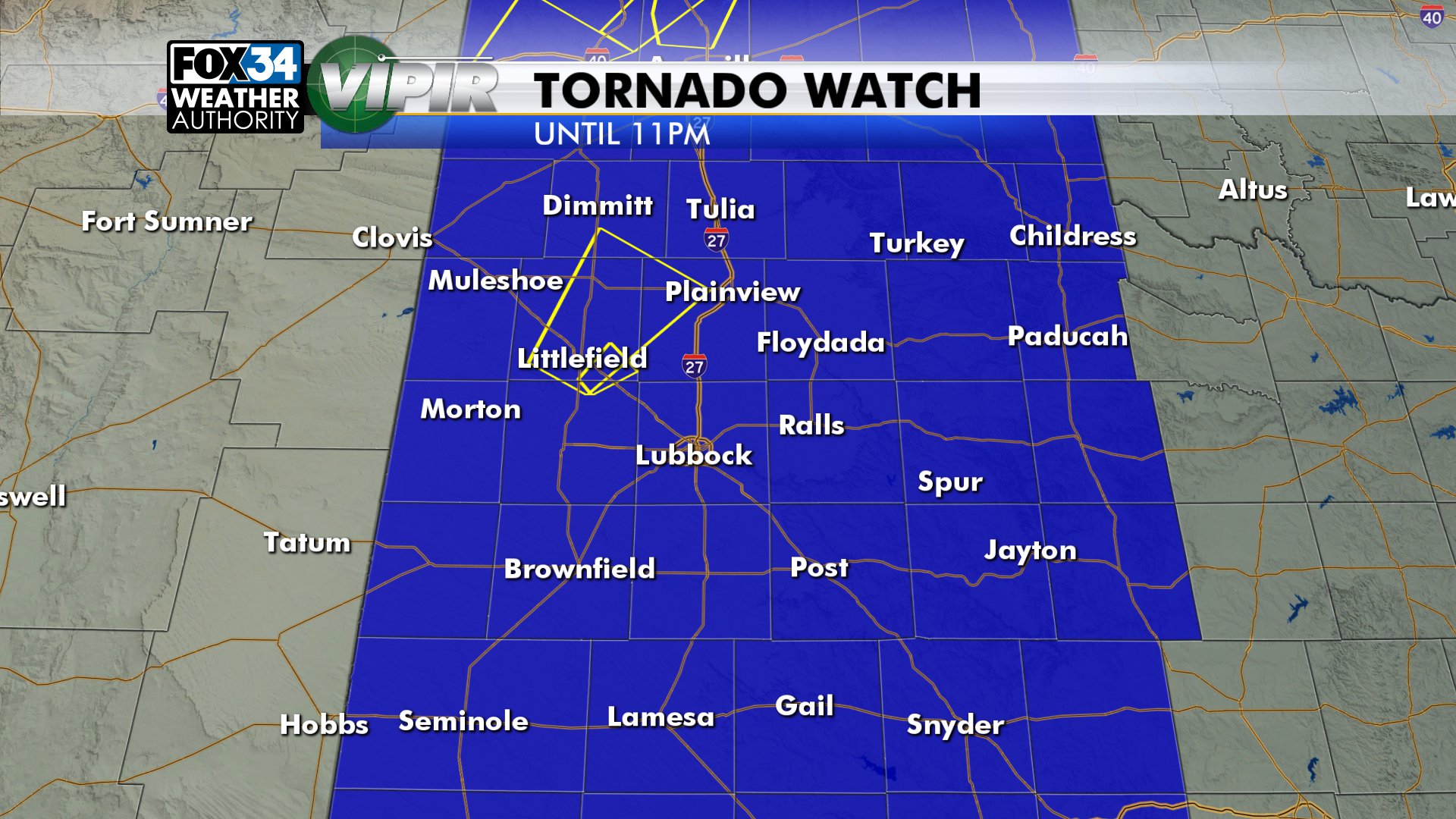 ---
There is the potential for significant severe weather across our area and much of the region this afternoon and evening. Make sure you have multiple ways to receive warnings. Be ready to get to your safe spot if a dangerous storm approaches. But we're not trying to scare you. Not everyone will get the worst of the storms today.


OUTLOOK: The latest Storm Prediction Center outlook shows a significant risk for severe weather across much of our area, including Lubbock, in orange below. The risk is even greater, 4 out of 5, in red.
This breaks down the probability of a tornado, large hail or damaging wind within 25 miles of a given point. It does not mean what your chance is to get these severe factors at your specific location. Keep in mind severe weather usually hits relatively small areas. But with dangerous weather like we're forecasting, just the chance is serious. These images give the probability for each type of severe weather with 25 miles of your location.
TIMING: A sign that some lift is already in place is an area of small showers/storms developing off the Caprock to the southeast. And showers/storms developing in NE New Mexico and the Panhandle. Any storms out there next few hours could become strong.
We expect the more robust storms to develop between 3 and 5 p.m. They will probably be fairly isolated initially, then increase to higher coverage by the evening. There could be a few rounds of storms. Some computer models keep storms ongoing well past Midnight, though the chance for storms should diminish the later we go into the night.
Once we get to mid-afternoon and continuing thereafter, there will be strong instability and ample shear for storms to produce very large hail and some tornadoes. A few strong tornadoes are possible, similar to the storm we saw near Tahoka Sunday.
Flooding will also be possible, especially locations that get multiple storms.
Check back here for more updates as the day progresses. We'll have our live stream up on the site and Facebook as needed, as well as live coverage on TV and radio.
-Matt