LUBBOCK, Texas -
A few storms are developing now over the western South Plains. The humidity is fairly limited where these storms are developing, meaning they will mainly produce gusty wind right now. These are moving to the NE.

As the storms move into better humidity farther east, some may become severe, with gusty wind and hail. Storms should fade late tonight.
MORNING: It'll be cloudy and humid in the morning, low near 64. Some fog or drizzle is possible.
AFTERNOON: There is a significant risk for severe weather. Just like we've seen with severe weather each of the past several days, not everyone gets a storm. But the coverage of storms should be greater tomorrow.
We'll have strong lift moving across our region by late afternoon. Combine this with strong surface instability, thanks to the temp in the 80s and dew point in the 60s, and moderate to strong wind shear, and we have the ingredients for numerous severe storms.
Storms will probably develop between 3 and 5 p.m. They'll move to the northeast. Storms should continue into the evening. And we may see another round of storms into early Wednesday morning.
STORM THREATS: At this point wind gusts around 70mph and golf ball size hail appear likely with tomorrow's storms. Isolated hail stones to the size of tennis balls is a possibility. The Storm Prediction Center has highlighted much of our area and a good part of the region with this greater severe risk, in orange below: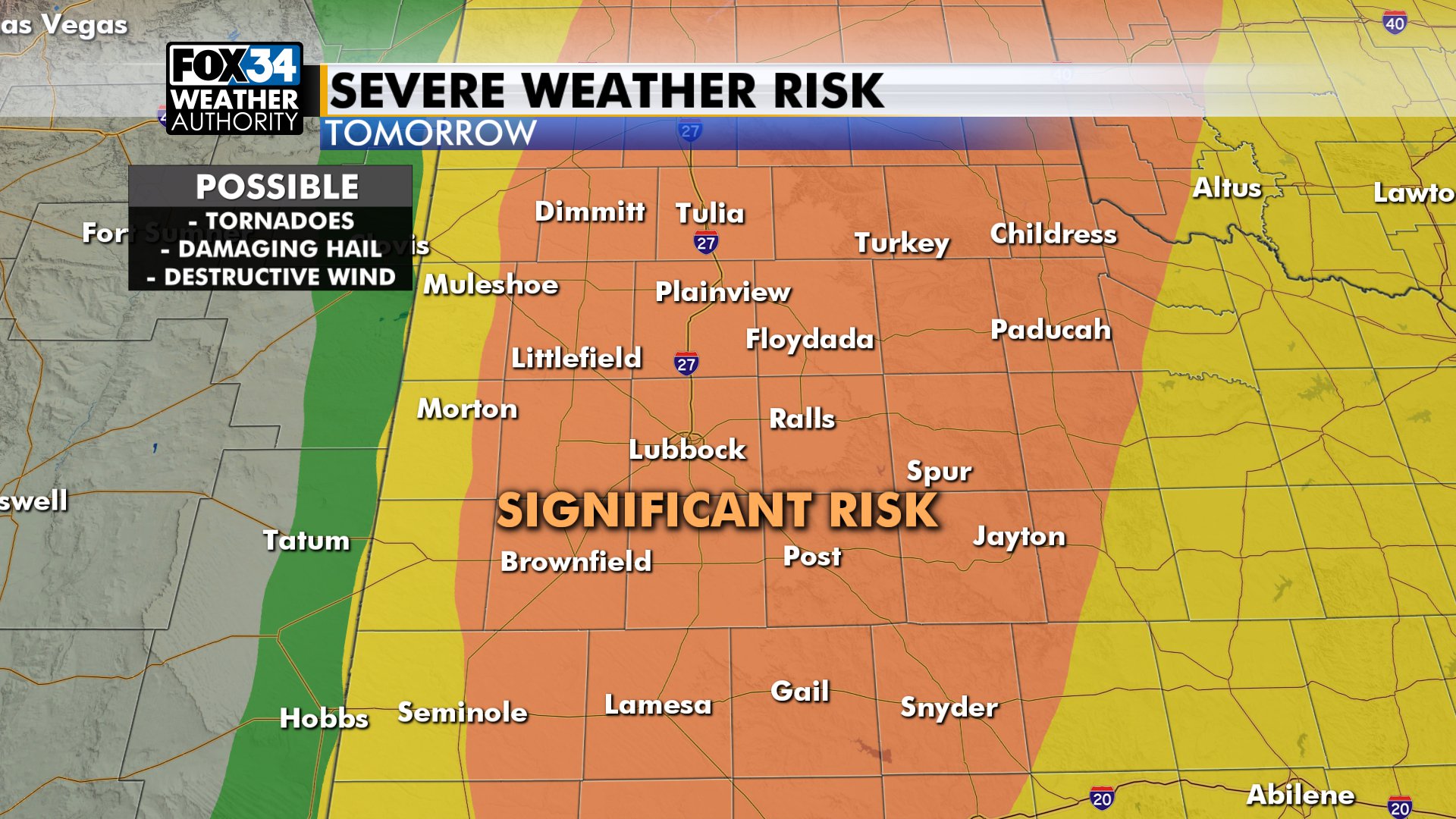 Tornadoes are possible with the stronger storms. We could have a strong tornado or two in our area. Of course, yesterday we had a strong tornado or series of tornadoes move across Lynn County for a couple hours.
Some flooding is also possible.
This outlook will change some by tomorrow morning. Be sure to check in with Bobby for that. Severe weather forecasting depends on small-scale features that sometimes aren't clear until a few hours out. But the signal has been consistent for days now that Tuesday will be an active day.
REST OF THE WEEK: Sunshine will return Wednesday. It'll turn cooler starting Thursday, with a chance for showers and storms this weekend. The severe weather risk is low after we get past early Wednesday morning.
Check back here for more updates today, tonight and tomorrow.
-Matt