LUBBOCK, Texas -
WELCOME RAIN: The heaviest rain fell south and east of Lubbock last night into this morning. There was quite a bit of flooding around Seminole and Gaines County, from a storm that was pretty well organized and even prompted a tornado warning yesterday evening. Here are some of the top rain totals from the Texas Tech Mesonet:
Childress 2.84"
Seminole 2.04"
Roaring Springs 1.56"
Paducah 1.52"
Northfield 1.36"
White River Lake 1.22"
O'Donnell 1.17"
Turkey 1.15"
Caprock Canyons State Park 1.07"
Floydada 1.01"
Post 0.93"
Olton 0.92"
Silverton 0.92"
Gail 0.81"
Anton 0.79"
Abernathy 0.70"
Spur 0.69"
Near Texas Tech 0.67"
Denver City 0.65"
Morton 0.57"
Wolfforth 0.47"
Dimmitt 0.46"
Hart 0.46"
Plains 0.46"
TONIGHT: We can't rule out a light shower or sprinkles, but looks like the good rain will be well southeast of us. A severe thunderstorm watch goes until 11 p.m. from the mountains of Southwest Texas through the Big Country into parts of North Texas, shown in green below from this image at 3:43 p.m.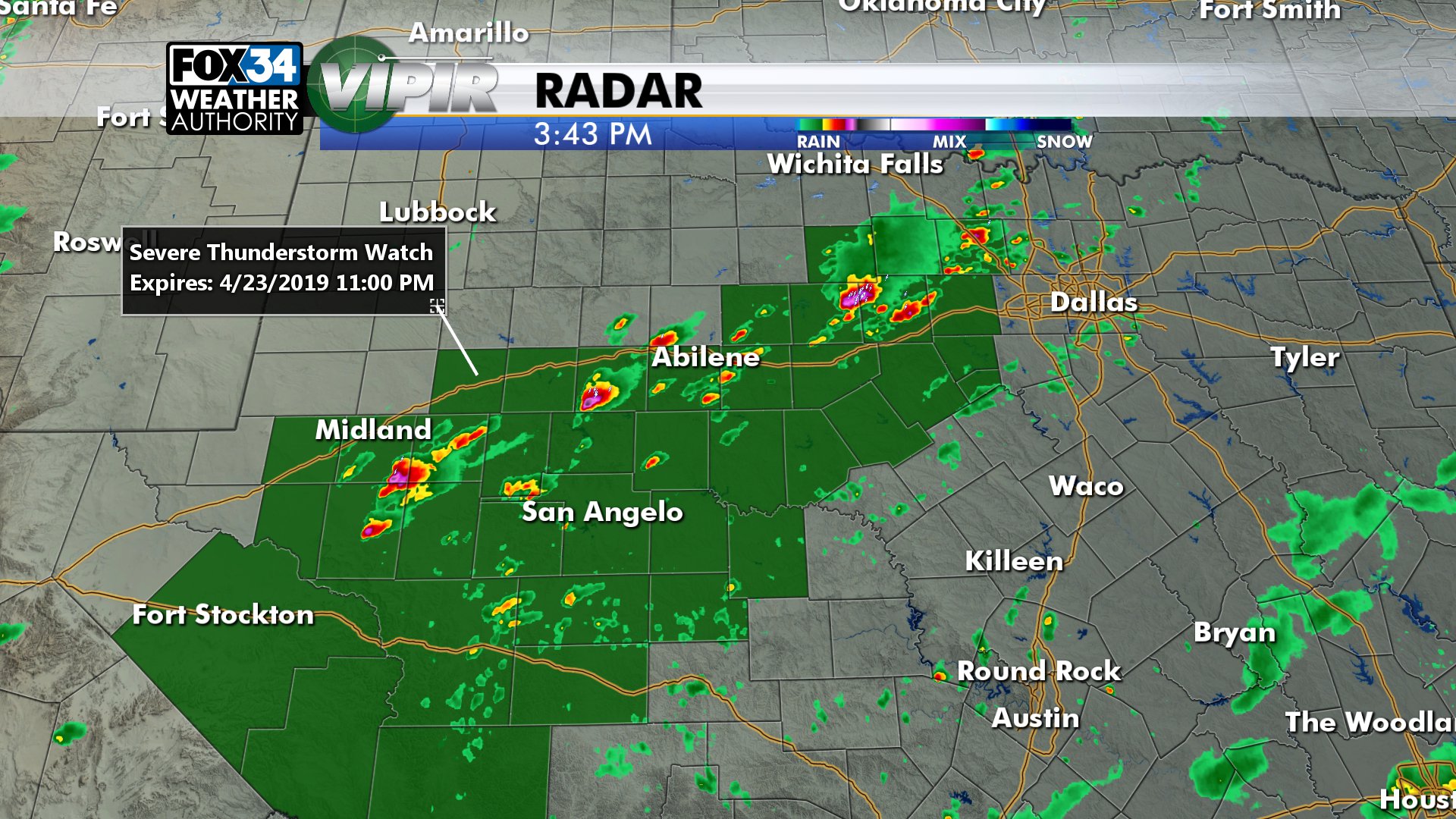 Here is the updated radar image here:
Low here near 46, cloudy. Wind NE/N 5-10mph.
TOMORROW: Mostly cloudy and cool, just a slight chance for a shower. High near 66, wind NE/E 5-15mph.
WARMER DAYS: It'll climb back up near 80 Thursday and Friday. The weekend will turn much warmer, around 90 on Saturday. Today computers are showing some "cooling" Sunday, but probably only a few degrees.
We may see a few thunderstorms first half of next week. But there isn't enough consistency in the computers to put a chance on any day in the 7-day just yet. The overall pattern for late April/early May would suggest at least a few isolated storms would be possible. The wind flow aloft will be southwesterly across our region, helping to draw up humidity to at least parts of the area. The dry line may get active, helping to develop a few storms.
We'll be able to get more specific on if and where storms will develop in the coming days. Until then, the weather will be pretty quiet here.
Have a great rest of the day. Bobby will have a full update to the forecast here early tomorrow.
-Matt