LUBBOCK, Texas -
THIS AFTERNOON: It's another sunny and mild day, temperature in the mid 80s on the South Plains. There's been lots of rain downstate with a few occasional showers making it just south of Abilene. That's a sign of what's to come for much of Texas.
TONIGHT: Low near 64, mostly clear. Some low clouds or fog may develop in the morning. Wind S 5-12mph. Sunrise 7:30.
FRIDAY: Mostly sunny, high near 85. Wind SE 5-15mph. A few showers or storms are possible to the southeast, around Abilene.
WEEKEND: As the tropical wave over the Gulf now moves inland it'll send good amounts of rain and rich humidity across much of Texas. For our area the rain/storm chance looks better on Saturday. We're now forecasting a 40% chance for showers and thunderstorms Saturday, high near 81. It probably won't be everyone in our area getting rain. But where it rains it could be a quick 1/2".
We'll be on the northern edge of the rich humidity. There's a higher likelihood for some isolated flooding rains to our south and southeast, around Midland and Abilene. The greater flood risk will be across South Central Texas. Purple on the map below shows widespread 3-4" rains next five days there, with isolated amounts much higher.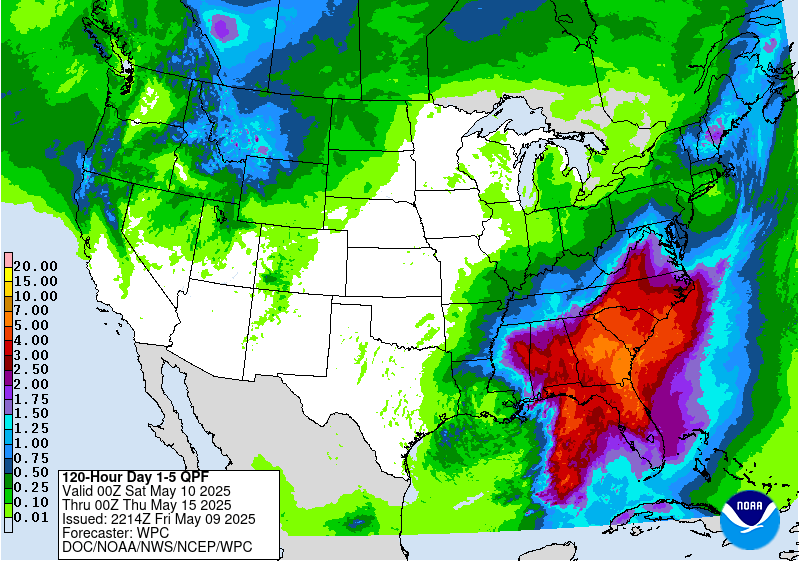 By Sunday it drops to a 20% chance for thunderstorms here, high near 83.
NEXT WEEK: More sun and warmer afternoons. There are some signs of a few storms in the area by Thursday or Friday.
TROPICS: Hurricane Florence is crawling westward, already bringing some heavy rain to the Carolinas. Though it's weakened some it doesn't mean this will be less dangerous. The wind threat isn't the primary concern. It's storm surge then flooding.
Because Florence will slowly move inland it'll bring very heavy rain to parts of the Carolinas for days. There's some uncertainty on exactly where it'll move once inland, but it's a good bet much of that region will get lots of rain through early next week.
Have a good rest of your day. Bobby will have a full update to the forecast here early tomorrow.
-Matt