LUBBOCK, Texas -
THIS AFTERNOON: It's another quiet day with a good supply of sunshine, temp in the mid 80s. It was a crisp start this morning, low of 59 in Lubbock. Here are some other lows from the Texas Tech Mesonet:
Earth 53
Aiken 54
Happy 54
Hart 54
Olton 55
Tatum 55
Amherst 56
Denver City 56
Levelland 56
Muleshoe 56
Silverton 56
Sundown 56
Tulia 56
There's been more rain downstate, but dry here across West Texas.
TONIGHT: Mostly clear, low 61. Wind S 5-12mph. Sunrise 7:29.
TOMORROW: Nearly a repeat of today, lots of sun, high near 85. Wind S/SE 5-15mph. Average high this time of year is 86.
NEXT FEW DAYS: Not much changing through this week, high each afternoon in the mid to upper 80s.
WEEKEND: Some more humidity is expected across the region because of a tropical disturbance moving in from the Gulf. And it now looks like we could get some rain out of this. It's not a great chance, 20% chance for a shower or storm on Saturday, 10% chance Sunday. The better chance is well south/southeast of Lubbock.
NEXT WEEK: It looks a little warmer again with more sun early next week.
TROPICS: As mentioned above, there's a disturbance in the southern Gulf that is expected to organize next few days, shown with the orange X below: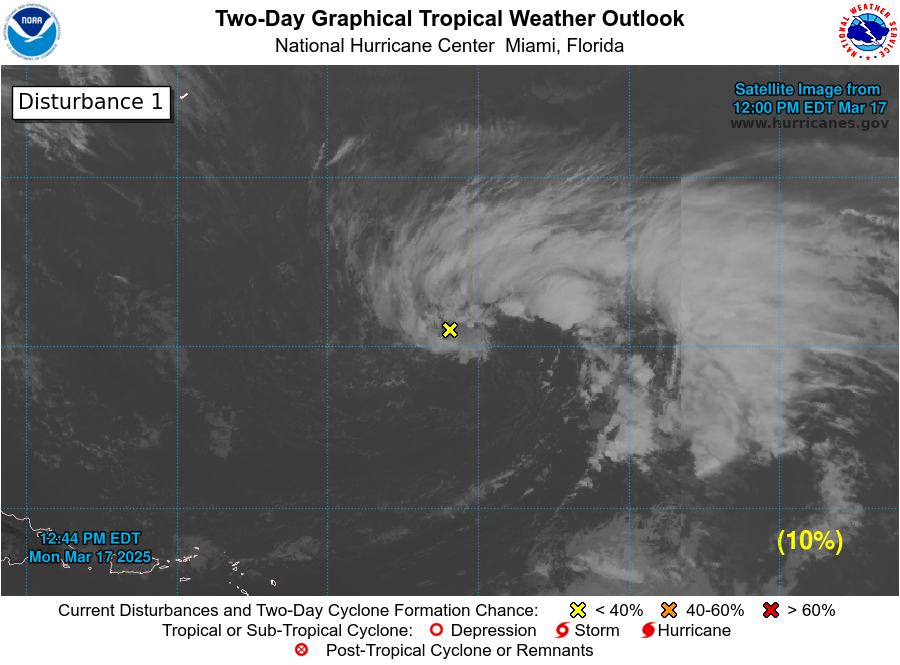 It may become a tropical depression by late week. It'll bring more heavy rain along the Gulf Coast, which is an area that's already had quite a bit of rain past few days. It's forecast to continue moving inland and bring rain to much of Texas, possibly some to the South Plains.
Hurricane Florence remains a category 4 hurricane this afternoon with max wind around 140mph.
The forecast track remains pretty consistent with each update from the National Hurricane Center. Landfall is forecast around North Carolina late Thursday or early Friday. Beyond the very strong wind, storm surge and heavy rain with landfall, the flooding risk remains very high for days. It looks like the storm will not move much for days, inundating the region with rain.
Have a good evening. Bobby will have a full update to the forecast here early tomorrow.
-Matt