LUBBOCK, Texas -
QUIET PATTERN: It's a partly cloudy afternoon with the temperature in the mid 80s. There were a few sprinkles around our area this morning. And this afternoon a few small showers have popped up to the SW of Lubbock. These are slowly drifting SW and won't produce much rain.
The air has started to dry out slightly. Over the past week the dew point has been in the low to mid 60s, even parts of our area the dew point climbing to near 70. This afternoon we've seen it drop into the upper 50s, showing a slight drying trend here at the ground. All the way up in the sky the air is also slowly drying.
The big picture shows high pressure over the southwestern United States starting to expand this way. It'll lead to warmer afternoons here.
TONIGHT: Mostly clear, low near 59. Because the air temp and dew point will be close together, some fog is possible in the morning.
NEXT FEW DAYS: Lots of sun with the high in the mid to upper 80s. Average low this time of year is 61, average high 86, so we'll actually be running pretty close to the average.
It looks dry next few days. There might be a few isolated showers or storms by the weekend into early next week, but nothing promising at this point.
TROPICS: Hurricanes Florence, Isaac and Helene are over the Atlantic. There's also a disturbance with a chance for development east of the Yucatan, shown with the yellow X below.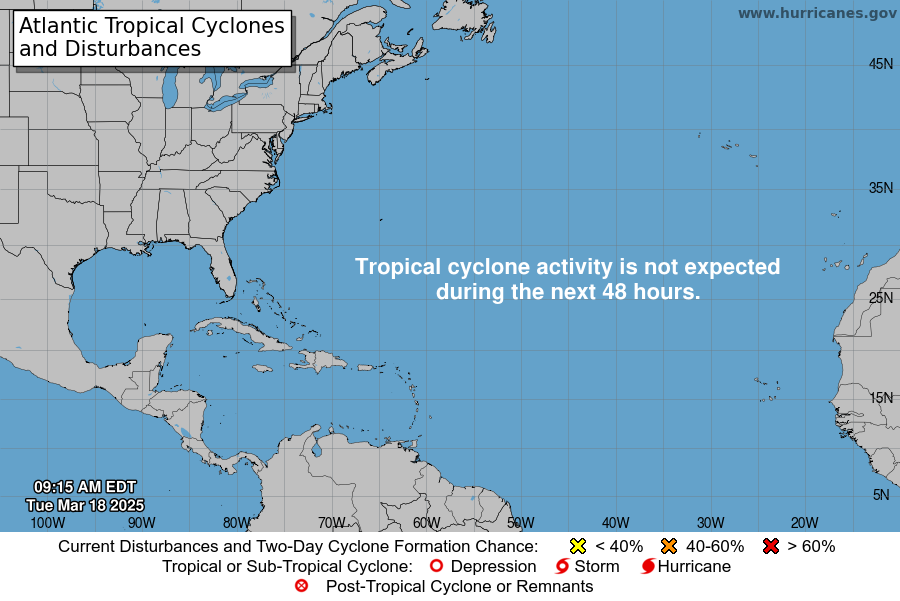 Hurricane Florence is a major hurricane, a category 4 with max wind 140mph, minimum pressure 939mb. As of the 4p CDT advisory, it's about 1,170 miles ESE of Cape Fear, NC. A hurricane watch could be issued for parts of the Carolinas tomorrow morning. The forecast track from the National Hurricane Center shows it making landfall somewhere along the Carolina coast late this week.
Isaac is forecast to continue west, making it south of the Dominican Republic by this weekend.
Have a great rest of your day. Bobby will have the next forecast update posted here early tomorrow.
-Matt