LUBBOCK, Texas -
MORE RAIN: While it wasn't all of our area, many locations picked up some pretty good rain last night into this morning. W and SW Lubbock County picked up the best rain, with some radar estimates of about 1". 0.69" was measured at Wolfforth, 0.60" at Reese Center, 0.23" near Texas Tech.
Here are some 24-hour totals ending 3:30p Tuesday on the Texas Tech Mesonet:
Seagraves 1.57"
Brownfield 1.23"
Seminole 1.19"
Levelland 1.08"
Morton 1.04"
Gail 0.9"
Sundown 0.69"
New Home 0.62"
Plains 0.61"
Anton 0.53"
Muleshoe 0.52"
Roaring Spring 0.51"
Post 0.38"
Tahoka 0.32"
Lake Alan Henry 0.28"
Paducah 0.25"
Amherst 0.22"
Tatum 0.21"
Slaton 0.20"
Denver City 0.19"
Earth 0.16"
Northfield 0.12"
Turkey 0.11"
Welch 0.11"
Most of these were fairly small storms, efficient at producing heavy rain over a small area. Some locations picked up more than an inch of rain while just a few miles away it was less than 1/4".
This afternoon a few storms have developed. As expected, coverage is lower than yesterday. Storms are moving from SW to NE. Rain has been much more widespread east and southeast of our area, with much of Texas picking up some rain.
TONIGHT: Mostly cloudy, slight chance for a shower or storm. Low near 65. Sunrise Wednesday 7:24.
TOMORROW: Clouds will be around much of the day, keeping the temperature down. High near 84. Wind SE/E 5-12mph. Chance for rain/storms 40%. There will be a lot of humidity to work with, meaning some of the storms will produce heavy downpours. Unfortunately, there will probably again be some locations that miss the rain. As for timing, it looks most favorable for rain from late Wednesday afternoon into Thursday morning.
NEXT FEW DAYS: Behind a front it'll turn slightly cooler Thursday and Friday. Thursday's rain chance mainly favors the morning, with just a mostly cloudy sky by the afternoon.
It drops to just a slight chance for a shower or storm on Friday.
WEEKEND: We can't rule out an isolated shower or storm Saturday afternoon for the Tech game, but at this point it looks like the air will be drying out this weekend with a warming trend. We expect mid 80s Saturday then a few degrees warmer Sunday.
NEXT WEEK: Warmer and mostly sunny. High pressure aloft may set up over the middle of the country, leading to a lower rain chance.
TROPICS: Tropical storm Gordon has max sustained wind at 70mph as of the 4p Tue advisory. It's about 90 miles south of Mobile, AL, moving NW at 15mph.
Farther out in the Atlantic is hurricane Florence, which is forecast to curve north, east of Bermuda.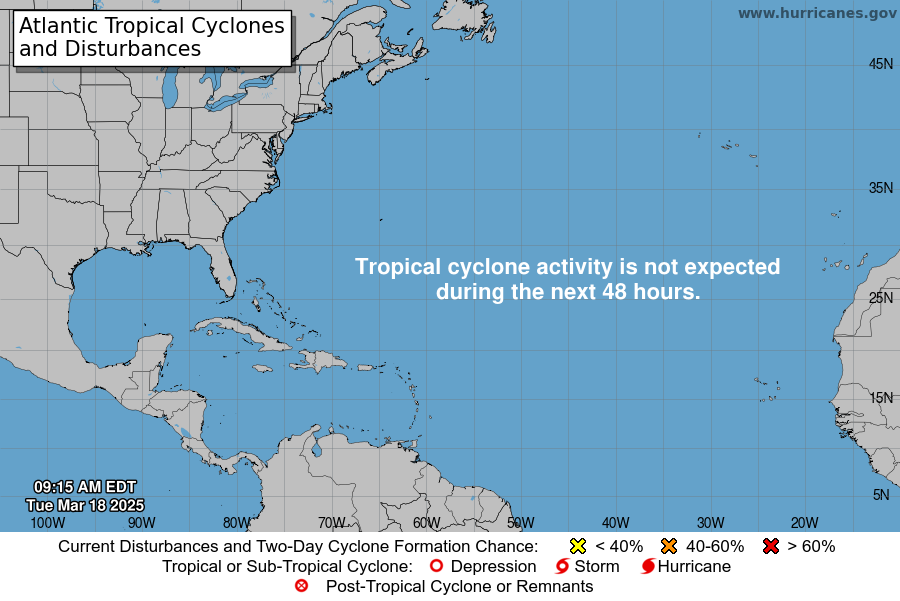 ?
Southeast of Florence is a wave the Hurricane Center gives a good chance to become Helene, noted with the yellow X. Long time to wait before we know if it'll be a threat to any part of the United States.
Have a great rest of your day. Bobby will have a full update to the forecast here early tomorrow.
-Matt