LUBBOCK, Texas -
updated 7:09 p.m. - The first monster storm is still rolling along, now moving into Spur. It has large hail and damaging wind. We've seen some stronger rotation at times, meaning it could produce a tornado if it strengthens more. But at this point there is not a tornado warning, the main concern is the hail and wind.
Another severe storm has developed near Gail, likely with large hail and some damaging wind. These storms will continue pushing east next few hours and will be out of our area.
---
updated 5:57 p.m. - One storm east of Lubbock has tapped into a lot of available energy. NWS reports some power lines have been downed in Ralls. This storm is producing at least golf ball-size hail, possibly larger. It's moving east toward Crosbyton, which got hit by large hail just a couple weeks ago.
This will be the exception...most of our area is just looking at hot and dry weather or a brief storm. But there is the potential for hail and damaging wind east of Lubbock next few hours.
---
THIS AFTERNOON: It's been another really hot day, up around 105 in Lubbock and up to or over 100 area-wide. There have been a few small storms that popped up. These will bring wind and maybe a little rain. The strongest storms will be capable of damaging wind and possibly some hail, risk area to the east of Lubbock. But nearly all of our area is missing the rain today.
TONIGHT: Mostly clear, low near 71. Wind S/W 10-18.
SATURDAY: Mostly sunny, not as hot. High 96. The NE wind will be up around 25mph late morning, gradually diminishing through the afternoon.
For the Tech game first pitch in the lower 90s dropping to the lower 80s late, NE wind 10-18mph.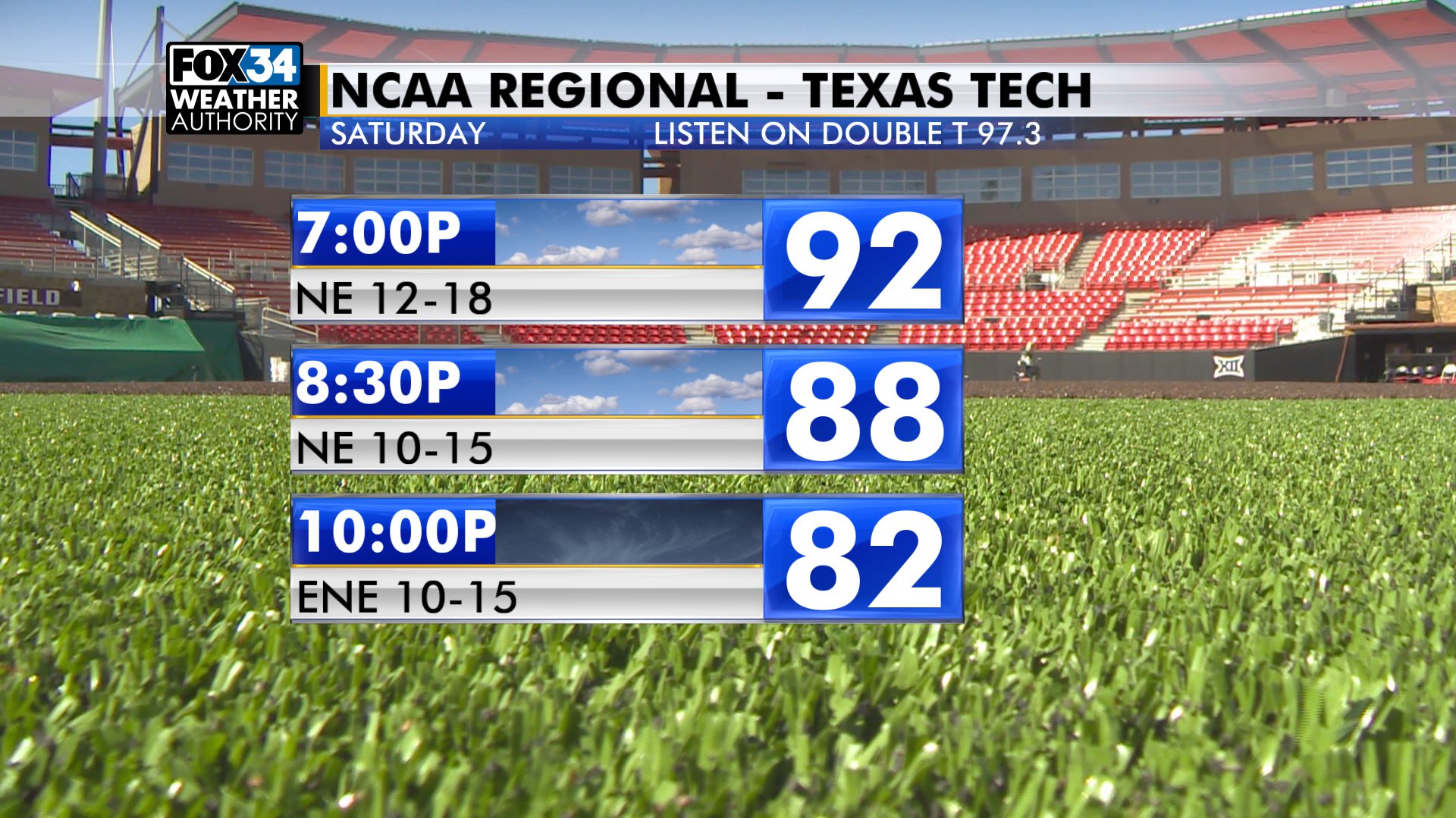 SUNDAY: Compared to where we've been past several days, it'll be nice. High near 89, mostly sunny. There is a slight chance for a few storms late Sunday.
NEXT WEEK: Again a slight chance for storms Monday, high near 98.
Unfortunately, an upper-level ridge expands across our region once again. It should be 100 or hotter Tuesday through Friday.
Have a great weekend and try to stay cool.
-Matt